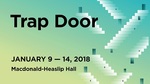 Description
Trap Door - a musical thriller about disappearances, some that we notice, some that we don't.
1919, Toronto the Good, where booze cans and brothels are hidden in places any God-fearing Methodist can find them: the Music Halls. Enter Teddy, a young woman in search of her sister, who went missing soon after moving to the city. Like her sister before her, she gets work at The Grand Opera and the owner is none other than the infamous real-life impresario Ambrose Small, who sells his theatre chain and vanishes from sight a week after she arrives, never to be heard from again. Where he went, perhaps only Teddy can say. But, then, where is she? Was she ever even there? Trap Door is a haunting true-crime story about a young woman's introduction to the decadence and brutality of city life in the early 20th century.

Book and lyrics by Morris Panych. Music and lyrics by Anika Johnson. Music and lyrics by Britta Johnson.
Director: Morris Panych
Choreographer: Sheila McCarthy
Musical Director: Ryan deSouza
Producer: Michael Rubinoff
Publication Date
1-9-2018
Production Year
2017/2018
Theatre Location
Macdonald-Heaslip Hall, Sheridan
Cast
Two Bits: Malindi Ayienga
Nurse, City Chorus, Audition Girl: Hailey Balaz
Mona: Samantha Bourque
Kurt: Matthew Fearnley-Brown
Theresa: Caroline Burton
City Chorus, Audition Girl, Reporter: Meghan Caine
Max: Geoffrey Cormier
City Chorus, Reporter, Seamstress: Julia Dunne
Zuzu: Eudes LaRoche-Francoeur
City Chorus, Preacher Woman, Audition Girl: Sierra Holder
Joe: Colin Kelly
City Chorus, Wardrobe Person, Reporter: Melissa Mackenzie
City Chorus, Actress: Lindsay Rolland Mills
Doughty: Greg Moreau
Mike: Russel Niessen
City Chorus, Reporter, Actor, Bible Man: Nicolas Sampedro
Carl: Jacob Sheffield
Minx: Amanda Silcoff
Ambrose Small: Braeden Soltys
City Chorus, Reporter, Janitor: Adam Smith
Man in White, Doctor: Benjamin Todd
Cop, Reporter, Stagehand: Joshua Warren
Teddy: Sydney Williams
Tuttle: Braedon Woods
Police Chief: Garret Woods

Ensemble: Hailey Balaz, Meghan Caine, Julia Dunne, Sierra Holder, Melissa Mackenzie, Lindsay Rolland Mills, Adam Smith, Joshua Warren
Keywords
Trap Door, Toronto, Theatre Sheridan, The Canadian Music Theatre Project, musical theatre
Disciplines
Theatre and Performance Studies
Faculty
Faculty of Animation, Arts & Design
School
Department of Visual and Performing Arts
Creative Commons License


This work is licensed under a Creative Commons Attribution-Noncommercial-No Derivative Works 4.0 License.
SOURCE Citation
Theatre Sheridan, "Trap Door, January 9 – 14, 2018" (2018). Theatre Sheridan Productions. 164.
https://source.sheridancollege.ca/faad_visu_uniq_theatre/164
Original Citation
Panych, M. (Director). (2018, January 9 – 14). Trap door [Theatre Performance]. Oakville: Theatre Sheridan.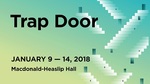 Included in
COinS