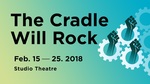 Description
Steeltown, USA, 1937. In the middle of the great depression, Marc Blitzstein writes his blistering attack on the wealth and power of a few held over the working class poor. The industrialist Mr. Mister owns the town and the people in it, until union leader Larry Foreman exposes the greed and corruption that lies just beneath the grit and grim. First banned for public performance, Biltzstein's revelatory operatic tale is as relevant today as it was 80 years ago.
By Marc Blitzstein
Director: Marc Richard
Choreographer: Alex Gratton
Musical Director: Chris Barillaro
Publication Date
2-15-2018
Production Year
2017/2018
Theatre Location
Studio Theatre, Sheridan
Cast
Professor Trixie: Liam Crober Best
Professor Scoot, Dr. Specialist: Claire Boudreau
Professor Mamie, Ella Hammer: Samantha Bourque
Bugs, Gent: Matthew Fearnley-Brown
Junior Mister: Aidan Burke
Reporter # 2: Caroline Burton
Mr. Mister: Jonathan Corkal
President Prexy: Geoffrey Cormier
Editor Daily, Sadie Pollock: Brynn Cutcliffe
Sister Mister: Alex Gratton
Larry Foreman: Colin Kelly
Reporter # 1: Brittni Kenny
Cop, Steve: Liam Lynch
Mrs. Mister: Emily Meadows
Harry Druggist: Russell Niessen
Dauber: Adam Smith
Gus Pollock, Dick: Braeden Soltys
Yasha: Benjamin Todd
Moll: Sydney Williams
Reverend Salvation:Garrett Woods

Ensemble: Aidan Burke, Caroline Burton, James Franklin, Matthew Gawley, Kelsi James, Brittni Kenny, Thomas Killip, Emma Burke Kleinman
Keywords
Cradle Will Rock, Theatre Sheridan, musical theatre
Disciplines
Theatre and Performance Studies
Faculty
Faculty of Animation, Arts & Design
School
Department of Visual and Performing Arts
Creative Commons License


This work is licensed under a Creative Commons Attribution-Noncommercial-No Derivative Works 4.0 License.
SOURCE Citation
Theatre Sheridan, "The Cradle Will Rock, February 15 – 25, 2018" (2018). Theatre Sheridan Productions. 165.
https://source.sheridancollege.ca/faad_visu_uniq_theatre/165
Original Citation
Richard, M. (Director). (2018, February 15 – 25). The cradle will rock [Theatre Performance]. Oakville: Theatre Sheridan.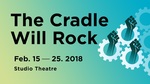 Included in
COinS