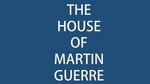 Description
This musical has been inspired by the famous 16th Century court case about Martin Guerre and his return home from an eight year disappearance. But who is he? Only Bertande his 'loving' wife knows.
Music and lyrics by Leslie Arden. Book by Leslie Arden and Anna T. Cascio
Director: Leslie Arden
Choreographer: Tracey Flye
Musical Director: Boko Suzuki
Publication Date
4-9-2019
Production Year
2018/2019
Theatre Location
Macdonald-Heaslip Hall, Sheridan
Cast
Martin Guerre, Huguenot Chorus: Rylan Allen
Guilhaume, Judge: Connor Briggs
Jehannot's Wife, Ensemble: Emma Burke-Kleinman
Antoine, Guard, Judge, Ensemble: Izaha Cochran
Father Boeri, Huguenot Soloist: Zach Colangelo
Marie: Megan Dallan
Huguenot Chorus, Ensemble: Dakota Duguid
Florist, Catholic Chorus, Ensemble: Zoe Fiddes
Bertrande's Father, Soldier, Guard, Huguenot Chorus: James Franklin
Suzanne's Husband, Wine Merchant: Matthew Gawley
Jeannette: Jill Goransonbr Jehannot, Guard, Judge: Wychita Henricks
Arnaud du Tilh: Griffin Hewitt
Pierre Guerre: Alexandre Iannuzzi
Suzanne, Ensemble: Kelsi James
Adult Bertrande: Isidora Kecman
Catherine: Maya Jenkins
Woman Begger, Catholic Chorus, Ensemble: Aveleigh Keller
Louise, Ensemble: Paige Kosik
Huguenot Chorus, Ensemble: Germaine Konji
Jean Peghula: Gunho Kwak
Little Sanxi: Evan LeFeuvre
Francois Ferriere, Ensemble: Greg Liow
Y. Bertrande, Huguenot Chorus: Lia Luz
Adele, Ensemble: Alexa MacDougall
Huguenot Soloist, Ensemble: Katie Martin
Catholic Chorus, Witness, Ensemble: Emily Masurkevitch
Catholic Chorus, Ensemble: Leah McKenney
Woman Begger, Farmer's Wife Catholic Chorus, Ensemble: Macayla Paris
Bernarde: Kati Pearson
Wool Seller, Catholic Chorus, Ensemble: Tevra Plamondon
Carbon Barrau, Farmer, Cart Driver, Judge: Matthew Reid
Phillippe, Catholic Chorus, Judge: Ben Skipper
Wise Woman, Ensemble: Mikayla Stradiotto
Sanxi Guerre, Coras: Luke Wiggins
Marguerite, Ensemble: Elise Wilson

Keywords
House of Martin Guerre, Theatre Sheridan, musical theatre
Disciplines
Theatre and Performance Studies
Faculty
Faculty of Animation, Arts & Design
School
Department of Visual and Performing Arts
Creative Commons License


This work is licensed under a Creative Commons Attribution-Noncommercial-No Derivative Works 4.0 License.
SOURCE Citation
Theatre Sheridan, "The House of Martin Guerre, April 9 – 21, 2019" (2019). Theatre Sheridan Productions. 172.
https://source.sheridancollege.ca/faad_visu_uniq_theatre/172
Original Citation
Arden, L. (Director). (2019, April 9 – 21). The house of Martin Guerre [Theatre Performance]. Oakville: Theatre Sheridan.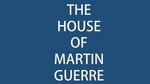 Included in
COinS