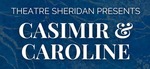 Description
This fresh adaptation of an already shockingly contemporary 1932 text opens on a flamboyant office party, where we meet employees and bosses engaged in the absurd and toxic behaviours demanded by capitalism as they attempt to survive the corporate and social hierarchy.
The party becomes a slow-mo disaster in hilarious, enraging and heartbreaking fashion. See how these emerging performers, already so conscious of the drastic changes needed in today's world, will explore, mock, challenge, question, sympathise with, and skewer these characters, as they dance-dance-dance the night away.
Director: Courtney Ch'ng Lancaster
Publication Date
1-26-2022
Theatre Location
Studio Theatre, Sheridan
Cast
Sam Boucher: Frank
Tatyana Doran: Ellie
Kyle Jonathon: Rankin
Kayla Maggio: Caroline
Annemiek Mallory: Sanders
Carly Martin: Mary
Kathleen Mills: Liz
Zoe O'Connor: Shira
Meredith Shedden: Trevor
Garrett Waschuk: Casimir
Keywords
Casimar and Caroline, Sheridan, musical theatre
Disciplines
Theatre and Performance Studies
Faculty
Faculty of Animation, Arts & Design
Creative Commons License


This work is licensed under a Creative Commons Attribution 4.0 License.
SOURCE Citation
Theatre Sheridan, "Casimar & Caroline, January 26th - 30th 2022" (2022). Theatre Sheridan Productions. 187.
https://source.sheridancollege.ca/faad_visu_uniq_theatre/187
Original Citation
Lancaster, C. C. (2021, January 26 -30). Casimir & Caroline. [Theatre Performance]. Oakville: Theatre Sheridan.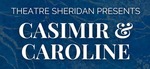 Included in
COinS