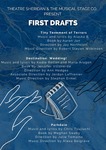 Tiny Tenements of Terrors, February 2022
Description
After 57 days in stasis, Aubry and 10 of Brooklyn's finest cops must return to her dead boyfriend's spore-infested apartment to destroy the multitude of plant-monsters he created. TINY TENEMENT OF TERRORS is an unholy fusion of gory 80's sci fi and 1960's camp, all done through the wonder of radio.
Director: Jay Northcott
Writer: Alaska B.
Writer: Aaron Jan
Music Director: Robert Steven Wilkinson
This paper has been withdrawn.