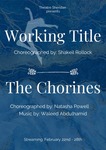 Description
Working Title
The process: it's a moment, but the end is worth it. When twelve talented humans come together...magic is made.
Choreographer: Shakeil Rollock
The Chorines
Inspired by the chorus girls of the 1940's, this new dance work will feature hyper-synchronized choreography, while honing the individual expressions of the performers as they pay homage to some of the most memorable female stage performers of the chorus girl era.
Choreographer: Natasha Powell
Composer : Waleed Abdulhamid
Theatre Location
MacDonald Heaslip Hall, Sheridan College
Cast
Working Title
Vinnie Alberto (he/him)
Hailey Christie-Hoyle
Anthony Goncharov
Ella Grant
Olivia Keady
Amanda Macevicius (she/her)
Liam Mcgibbon
James Petrasiunas (they/him)
Aimee Tremblay Woodman (she/her/elle)
Travae Williams
Daniel Yeh
Michelle Yu (she/her)
The Chorines
Veronique Beaudet (she/they)
Caitlin Collingwood
Theresa Cotton (she/her)
Rhiannon Hoover (they/them)
Mikayla Kwan (she/her)
Maya Lacey
Jordan Melnyk
Madelyn Miyashita (she/her)
Grace Rockett
Keywords
Working Title, The Chorines, dance shows, Sheridan, musical theatre
Disciplines
Theatre and Performance Studies
Faculty
Faculty of Animation, Arts & Design (FAAD)
Creative Commons License


This work is licensed under a Creative Commons Attribution-Noncommercial-No Derivative Works 4.0 License.
SOURCE Citation
Sheridan, Theatre, "Dance Pieces, February 22nd - 28th" (2022). Theatre Sheridan Productions. 195.
https://source.sheridancollege.ca/faad_visu_uniq_theatre/195
Original Citation
Rollock, S. [Choreographer], Powell, N. [Choreographer]. (February 2022). Dance pieces. [Theatre Performance]. Oakville: Theatre Sheridan.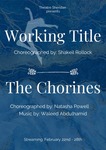 Included in
COinS