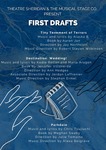 Description
Sheridan's new works development program, First Drafts, is a platform that champions writers creating original musicals that break away from the Western canon of Musical Theatre. Each installment of the initiative supports three teams of writer/composers to generate 30 minutes of a new musical to be developed with and performed by Sheridan's fourth year students. This writing development program perfectly encapsulates Sheridan's dual interest in training exceptional musical theatre performers, and using our resources to create an engine for producing a more diverse canon of work, one that speaks to the issues we're facing presently, and represents the stories of the next generation.
This year we're thrilled to be partnering with The Musical Stage Company, who are devoted to the expansion of new musical works, in order to strengthen our connection to what feels relevant in mainstream musical theatre, engage our students and invited artists in dialogue about how to expand their practice, and generate further connections for our writers and graduating performers with a company that represents a cornerstone of progress in the development of new Canadian musical theatre.


Tiny Tenements of Terror
After 57 days in stasis, Aubry and 10 of Brooklyn's finest cops must return to her dead boyfriend's spore-infested apartment to destroy the multitude of plant-monsters he created. TINY TENEMENT OF TERRORS is an unholy fusion of gory 80's sci fi and 1960's camp, all done through the wonder of radio.
Director: Jay Northcott
Writer: Alaska B.
Writer: Aaron Jan
Music Director: Robert Steven Wilkinson


Destination: Wedding!
When a tropical storm descends on the island of Kapalaran, our "nearlyweds" are forced to move the beach wedding of their dreams indoors. This not-so-simple relocation immediately becomes the least of their problems. In the midst of a hurricane of drama and homicidal coconuts, our couple must let go of their best laid wedding plans and trust that their love will find a way through the storm.
Director: Ann Hodges
Associate Director: Jordan Laffrenier
Writer: Kodie Rollan
Writer: Jennifer Villaverde
Writer: Maria Aragon
Music Director: Stephan Ermel


Parkdale
Welcome to 110 Parkdale Ave, the last subsidized low rise building in the neighbourhood. It's special, but you can't tell that from the outside. The building is far from perfect, but for the tenants who occupy its cracked walls and uneven floors, it's home. When the tenants are faced with an eviction notice, they (reluctantly) step out of their bubbles to band together as a community in order to save their homes.
Director: Julie Tomaino
Writer: Meghan Swaby
Writer: Chris Tsujiuchi
Music: Alexa Belgrave
Theatre Location
MacDonald Heaslip Hall, Sheridan College
Cast
Tiny Tenements of Terrors
Sam Boucher: Botantist/Tenant #1
Theresa Cotton: Sarge/Tenant #2
Jeremy Foot: Stanley/JFK
Olivia Keady: Milton
Amanda Macevicious: Hutch
Caitlyn Macinnis (they/them/she/her) Nurse #2/Reporter #2 Zoe O'Connor: Aubry Ellen Nibbley
James Petrasiunas (they/him):Queen
Ali Powell (she/her: Killjoy/Tenant #3
Aidan Reimer: Barnicus
Freya Scerri Diacono (she/her): FBI/Vanessa
Meredith Shedden (she/her): Nurse #1/Reporter #1
Aimee Tremblay Woodman: Nurse #3/Reporter #3


Destination: Wedding!
Vinnie Alberto (he/him): Deacon/BB Server
Caitlin Collingwood: Minerva
Liam Eric Dawson: Jo the Server/Cindy the Dog
Anthony Goncharov: Manuel
Kyle Jonathan: Chad
Mikayla Kwan (she/her): Carla
Lily Librach: Anita
Kayla Maggio: Erin/BB Server/Resort Guest
Annemiek Mallory: Sloan
Madelyn Miyashita: Belinda/BB Server
Jillian Perkins: Quinn
Garret Waschuk: Charles
Daniel Yeh: Brad
Michelle Yu (she/her): Drew/BB Server/Resort Guest


Parkdale
Veronique Beaudet (she/they): Monika/ Weatherperson Tressi
Marco DeLuca (he/him): Greg
Tatyana Doran: Connie
Ella Grant: Tourist 1/Tenant 1/Tenant 3
Emi Gusdale: Astrid/Lovebird 2
Rhiannon Hoover (they/them): Petra
Maya Lacey: Lucy
Carly Martin: DJ Lonely/Camera Operator
Liam McGibbon: Paul
Jordan Melnyk: Narrator/Lovebird 1
Kathleen Mills (she/they) Misty/ Newsanchore Nicole/Ida
Grace Rockett: Boss Bethany/Tourist 2/Tenant 2
Mirabella Sundar Singh: Ms. Sherry
Travae Williams (he/him): Malcolm
Keywords
First Draft, Tiny Tenements of Terrors, Destination Wedding, Parkdale, Sheridan, musical theatre
Disciplines
Theatre and Performance Studies
Faculty
Faculty of Animation, Arts & Design
Creative Commons License


This work is licensed under a Creative Commons Attribution-Noncommercial-No Derivative Works 4.0 License.
SOURCE Citation
Sheridan, Theatre, "First Drafts, February 2022" (2022). Theatre Sheridan Productions. 196.
https://source.sheridancollege.ca/faad_visu_uniq_theatre/196
Original Citation
Northcott, J. (Director), Hodges, A.(Director), Tomaino, J. (Director). (2022). First Drafts. [Theatre Performance]. Oakville: Theatre Sheridan.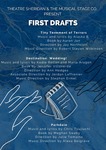 Included in
COinS