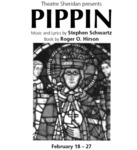 Description
Pippin was created by Stephen Schwartz (Godspell, Wicked) and Roger O. Hirson as a college project, it was a cute and sentimental story about a travelling theatrical troupe putting on a play about a young man finding meaning in his life. It was fairly innocent and innocuous – until Bob Fosse got a hold of it. It was Fosse who invented the Leading Player and embedded a dark Vaudevillian mystique to the piece, making it a Broadway sensation in 1972. For Fosse the piece was autobiographical, the two main characters representing the two opposing sides of his own personality: Pippin, the innocence and hope and the Leading Player the dark, lurid drives, requiring satiation. Fosse used Pippin as a vehicle for playing out many of his sexual fantasies and personal concerns (war, religion, power, politics).
The Theatre Sheridan production explored the themes presented through Fosse's original staging and choreography. The group of players were placed at some point in the future. It asks the question: if our society and our consumptive need for entertainment and the mass media continues to grow, where will we be in the future? What forms of entertainment will be required in the future to satisfy our needs? What are we leaving for future generations?
Pippin, the character, in some respects is an extraordinary human being because he dares to ask the question – what will give meaning to my life? It is a celebration of the human spirit and the radical hope we can all possess. Pippin chooses life but he is no Pollyanna, he continues to ask extraordinary questions and finds hope in simple human connection.
A stage musical with music and lyrics by Stephen Schwartz and a book by Roger O. Hirson. Bob Fosse, who directed the original Broadway production, also contributed to the libretto.
Director: Marc Richard
Choreographer: Robin Calvert
Musical Director: Stephen Woodjetts
Publication Date
2-18-2010
Production Year
2009/2010
Theatre Location
Studio Theatre, Sheridan
Cast
Pippin: Vaughan Harris, Wade Muir
Catherine: Jade Padua
Fastrada: Alexandra Herzog
Berthe: Jenna Warriner
Leading Player: Cameron Carver
Charles: Jordan Till
Lewis: Graham Parkhurst
Theo: Mia Van Wyck-Smart

Ensemble
Jacqueline Burtney, Natalia Gracious, Julianne Hobby, Miranda Jary, Miranda MacDonald, Kelly McNamee, Emilee Nimetz, Diana Oliveira, Oliver Bailey, Sam DiGiuseppe, Will Lamond, Colin Noel-Baldwin, Travis Seetoo
Keywords
Pippin, Theatre Sheridan, musical theatre
Disciplines
Theatre and Performance Studies
Faculty
Faculty of Animation, Arts & Design
School
Department of Visual and Performing Arts
Creative Commons License


This work is licensed under a Creative Commons Attribution-Noncommercial-No Derivative Works 4.0 License.
SOURCE Citation
Theatre Sheridan, "Pippin, February 18 – 27, 2010" (2010). Theatre Sheridan Productions. 30.
https://source.sheridancollege.ca/faad_visu_uniq_theatre/30
Original Citation
Richard, M. (Director). (2010, February 18 – 27). Pippin. [Theatre Performance]. Oakville: Theatre Sheridan.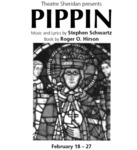 Included in
COinS