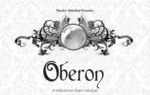 Description
Oberon (A Midsummer Night's Musical) is a sequel to Shakespeare's A Midsummer Night's Dream. Set 20 years after (and 1000 years before) that fateful night in that magical woods near Athens, Oberon picks up the stories of Shakespeare's Faeries and Mortals at a time when the world as most of them know it is about to change completely.
The majority of the characters from the original play return in this sequel, although many of their lives have not turned out as might have been predicted. There is one completely new character, and one other who has grown up considerably.
Director: Jim Betts
Choreographer: Stephanie Graham
Musical Director: Michael Mulrooney
Publication Date
4-15-2010
Production Year
2009/2010
Theatre Location
Studio Theatre, Sheridan
Cast
The Mortals

The Court
Theseus: Derek MacDougall
Hippolyta: Lena Wiklund
Serena: Miranda Jary
Philostrate: Wesley Colford

"The Lovers"
Helena: Andrea O'Brien
Demetrius: Glen Mills
Hermia: Linnea Currie-Roberts
Lysander: A.J. Stewart

The Mechanicals
Bottom: Jonathan Cullen
Quince: Graham Parkhurst
Flute: Vaughn Harris
Snout: Chris Tsujiuchi
Snug: Nathan Leung
Starveling: Phil Skala

The Changeling Child
Robin: Travis Seetoo

The Spirits

The Court
Oberon (King of the Faeries): Will Lamond
Titania (Queen of the Faeries): Jordy Rolfe
Puck (A Hobgoblin): Jenna Warriner

The Faeries
Cobweb: Courtney Simpson
Peaseblossom: Genevieve Dufour
Mustardseed: Dianne Oliveira
Moth: Jade Padua
Marigold: Elise Waldram
Aspen: Andrew Morrisey
Keywords
Oberon (A Midsummer Night's Musical), Theatre Sheridan, musical theatre
Disciplines
Theatre and Performance Studies
Faculty
Faculty of Animation, Arts & Design
School
Department of Visual and Performing Arts
Creative Commons License


This work is licensed under a Creative Commons Attribution-Noncommercial-No Derivative Works 4.0 License.
SOURCE Citation
Theatre Sheridan, "Oberon (A Midsummer Night's Musical), April 15 – 24, 2010" (2010). Theatre Sheridan Productions. 32.
https://source.sheridancollege.ca/faad_visu_uniq_theatre/32
Original Citation
Betts, J. (Director). (2010, April 15 – 24). Oberon (a midsummer night's musical). [Theatre Performance]. Oakville: Theatre Sheridan.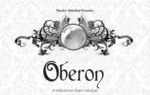 Included in
COinS