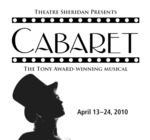 Description
This is not a musical about Nazi Berlin. Instead, Joe Masteroff's book takes us into the world of the uncertain and chaotic Weimar Republic – a post-World War I, wild and art-filled nightclub scene mixed with the threat of the unknown. When the show first starts in 1929 we see how the morality in Berlin is decaying as rapidly as the democratic system – the Emcee welcomes and introduces us to the Kit Kat Klub, a place where life is trouble-free and "beautiful." And yet, as the show progresses, we see the decline of this way of life as the Emcee is slowly abandoned and betrayed by all those around him.
In the months that precede the outbreak of World War II, American writer Clifford Bradshaw lands in Berlin and soon finds himself at the notorious Kit Kat Klub. There he falls madly in love with the English ex-patriot entertainer Sally Bowles. Their affair is tested as her reckless lifestyle overwhelms him and as the world around them marches towards chaos. Throughout, the Kit Kat Klub's Emcee taunts and satirizes with dazzling musical numbers in a score that includes "Wilkommen","Money (Makes the World Go Around),"Maybe This Time", and the unforgettable title tune.
Book by Joe Masteroff, music by John Kander, lyrics by Fred Ebb.
Director: Tricia Lackey
Choreographer: Jeff Dimitriou
Musical Director: Donna Garner
Publication Date
4-13-2010
Production Year
2009/2010
Theatre Location
Macdonald-Heaslip Hall, Sheridan
Cast
Emcee: Anthony MacPherson
Sally Bowles: Jacqueline Burtney
Sally Bowles: Emilee Nimetz
Clifford Bradshaw: Cameron Carver
Fräulein Schneider: Hilary Wilson
Herr Schultz: Chris Lafleur
Ernst Ludwig: Oliver Bailey
Fräulein Kost, Fritzy: Judy Kovacs
Frenchie: Bethany Kovarik
Lulu: Alexandra Herzog
Helga: Kyla Musselman
Rosie: Hayley Blythv Texas: Nicole Power
Bobby: Wade Muir
Victor, 1st Sailor, Psychoanalyst: Nicholas Nesbitt
Hans, 2nd Sailor, Maitre D': Corey Agnew
Herman, 3rd Sailor: Kevin Morris
Max, Taxi Man: Ian Cheverie
Bruno, Customs Officer, Nazi Guard: Aaron Sax
Wernfrid, Asst. Customs, Nazi Guard: Al Braatz
Aroa: Miranda MacDonald
Gisele: Kylie McMahon
Hedwig (Trombone): Tess Barao
Lovie (Piano): Laurel Denning
Mina (Saxophone): David Hohl
Ursula (Accordion): Alessia Lupiano
Petra (Drums): Christine Vandenberk
Dorotea: Brittany Robinson
Gretja: Emma Smit
Gunther: Simon Gordon
Keywords
Cabaret, Theatre Sheridan, musical theatre
Disciplines
Theatre and Performance Studies
Faculty
Faculty of Animation, Arts & Design
School
Department of Visual and Performing Arts
Creative Commons License


This work is licensed under a Creative Commons Attribution-Noncommercial-No Derivative Works 4.0 License.
SOURCE Citation
Theatre Sheridan, "Cabaret, April 13 – 24, 2010" (2010). Theatre Sheridan Productions. 33.
https://source.sheridancollege.ca/faad_visu_uniq_theatre/33
Original Citation
Lackey, T. (Director). (2010, April 13 – 24). Cabaret. [Theatre Performance]. Oakville: Theatre Sheridan.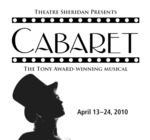 Included in
COinS