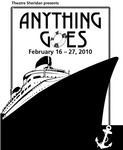 Description
Billy Crocker, a young lovesick Wall Street broker, stows away aboard a trans-Atlantic liner bound for England in order to win the heart of the hapless heiress Hope Harcourt. Using a series of clever disguises Billy successfully avoids being discovered. But havoc erupts when he is mistakenly identified as Public Enemy Number One. This joyous Cole Porter tour-de-force is jam packed with toe-tapping song standards, eye-popping production numbers, and tons of tap-dancing!
Music and lyrics by Cole Porter. Original book by Guy Bolton, P.G. Wodehouse, Howard Lindsay and Russel Crouse. New book by Timothy Crouse and John Weidman
Director: Scot Denton
Choreographer: Stephen Greig
Musical Director: David Warrack
Publication Date
2-16-2010
Production Year
2009/2010
Theatre Location
Macdonald-Heaslip Hall, Sheridan
Cast
Elisha Whitney: Constant Bernard
Fred the Bartender: Aaron Sax
Piano Player: Courtney Simpson
Billy Crocker: Jonathan Cullen
Reno Sweeney: Nicole Power
Captain: Chris LaFleur
Purser: Phil Skala
Reporter # 1: Hilary Wilson
Reporter # 2: Aaron Sax
Photographer: Brent Yorke
Minister: Derek MacDougall
Luke: Keenan Viau
John: Michael Sousa
Purity: Bethany Kovarik
Chastity: Katie Bromley
Charity: Aly Workman
Virtue: Hayley Blyth
Hope Harcourt: Genevieve Dufour
Evangeline Harcourt: Andrea O'Brien
Lord Evelyn Oakleigh: Chris Tsujiuchi
FBI Agent # 1: Sean Cage
FBI Agent # 2: Matt Villemaire
Erma: Judy Kovacs
Moonface Martin: Anthony MacPherson
Sailor Quartet: Ryan Brown, Glen Mills, Iain Stewart, Wesley Colford
Passengers: Linnea Currie-Roberts, Jocelyn Regina, Hilary Wilson, Derek MacDougall, Aaron Sax, Sean Cage, Keenan Viau, Michael Sousa, Matt Villemaire, Jennifer Rooney, Malia Becker, Jordy Rolfe, Courtney Simpson
Sailors: Ryan Brown, Brent Yorke, Glens Mills, Ian Stewart, Wesley Colford, Sean Blakeley
Old lady in wheelchair: Jordy Rolfe
Keywords
Anything Goes, Theatre Sheridan, musical theatre
Disciplines
Theatre and Performance Studies
Faculty
Faculty of Animation, Arts & Design
School
Department of Visual and Performing Arts
Creative Commons License


This work is licensed under a Creative Commons Attribution-Noncommercial-No Derivative Works 4.0 License.
SOURCE Citation
Theatre Sheridan, "Anything Goes, February 16 – 27, 2010" (2010). Theatre Sheridan Productions. 34.
https://source.sheridancollege.ca/faad_visu_uniq_theatre/34
Original Citation
Denton, S. (Director). (2010, February 16 – 27). Anything goes. [Theatre Performance]. Oakville: Theatre Sheridan.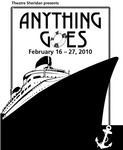 Included in
COinS