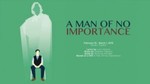 Description
Alfie Byrne is a bus driver in 1964 Ireland, whose heart holds secrets he can't share with anyone except his imagined confidante, Oscar Wilde. This production won Best Off-Broadway Musical award in 2003.
Director: Keith Pike
Musical Director: Adam White
Production Year
2014/2015
Theatre Location
Studio Theatre, Sheridan
Cast
Alfie: Colin Simmons
Robbie: Lucas Popowich
Adele: Robyn Harrison
Lilly: Teale Poirier
Mrs. Patrick: Lea Beauvais
Baldy: Chris Mayo
Carney: Gavin Bowerman
Oscar Wilde: Tom Davis
Mrs. Curtain: Lauran Olmstead
Ernie: Cameron Francis
Miss. Crowe: Samantha Gaetz
Rashers Flynn: Shane J. Gramlich
Mrs. Grace: Laura Larson
Brenton Baret: Scott Barker
Sully O'Hara: Luc Trottier
Father Kenny: Daniel Spragge
Peter: Bryden Rutherford
ENSEMBLE
Nevada Banks, Tyler Check, Quinn Dooley, Catherine Wylee, Grace McRae, Matthew Payne, Micah Richardson, Melissa Torelli, Amanda Trapp, Amy Welcher
Keywords
Theatre Sheridan, A Man of No Importance, musical theatre
Disciplines
Theatre and Performance Studies
Faculty
Faculty of Animation, Arts & Design
School
Department of Visual and Performing Arts
Creative Commons License


This work is licensed under a Creative Commons Attribution-Noncommercial-No Derivative Works 4.0 License.
SOURCE Citation
Theatre Sheridan, "A Man of No Importance, February 19 - March 1, 2015" (2015). Theatre Sheridan Productions. 4.
https://source.sheridancollege.ca/faad_visu_uniq_theatre/4
Original Citation
Pike, K. (Director). (2015, February 19 – March 1). A man of no importance. [Theatre Performance]. Oakville: Theatre Sheridan.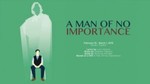 Included in
COinS