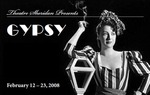 Files
Description
In this enduring musical classic, overbearing stage mother Rose is determined to get her younger daughter June into big time vaudeville. However, unwilling to tolerate her mother's ruthless manipulations, June elopes with a dancer. Rose then turns all of her attention on her older and less talented daughter Louise. Soon after transforming her into a star burlesque stripper known as Gypsy Rose Lee, 'Mama' Rose begins to realize that she is no longer needed in her famous daughter's life.
Based on the memoirs of Gypsy Rose Lee, music by Jule Styne, lyrics by Stephen Sodheim, book by Arthur Laurents
Director: Marie Baron & Terry Tweed
Choreographer: Stephen Findlay
Musical Director: Lona Davis
Publication Date
2-12-2008
Production Year
2007/2008
Theatre Location
Macdonald-Heaslip Hall, Sheridan
Cast
Farm Boy, Driver: Thomas Alderson
Francis, Newsboy, Waitress: Kathryn Ballantine
Balloon Girl, Marjorie May, Showgirl: Tess Benger
Mr. Goldstone, Bourgeron-Cochan: Daniel Birnbaum
Louise: Kendra Braun
Baby June: Jen Budgell
Stage Mother, Hotel Guest, Renee (Gypsy`s maid): Stacey Bulmer
Miss Cratchitt: Leah Cogan
Newsboy, Edna, Showgirl, Child Performer: Lise Cormier
Mazeppa: Romina Cortina
Uncle Jocko, Kringelein, Stagehand: Caleb Cosman
Thelma, Showgirl, Stage Mother: Shannon Coulter
June: Katie Edwards
Rose: Kate Etienne
Georgie, Angie, Farm Boy: Alex Fiddes
Dolores, Showgirl, Stage Mother: Janelle Gallant
Tessie Tura: Caitlin Goguen
Stage Mother, Gail, Hotel Guest, Showgirl: Anna Hurshman
Louise: Kayla James
Pop, Cigar, Hotel Guest: Ryan Jeffrey
Herbie: Jeremy Lapalme
Tulsa, Farm Boy: Colin Lepage
Farm Boy: A.J. Lopresti
L.A., Farm Boy: Lucas Meeuse
Baby Louise, Showgirl: Rebecca Peters
Newsboy, Driver's son, Child Performer, Agnes: Erika Santillana
Yonkers, Farm Boy: Johnny Simeonakis
Rose: Jennifer Smardenkas
Electra: Alicia Toner
Weber, Pastey, Phil: Nick Visscher
Keywords
Gypsy, Theatre Sheridan, musical theatre
Disciplines
Theatre and Performance Studies
Faculty
Faculty of Animation, Arts & Design
School
Department of Visual and Performing Arts
Creative Commons License


This work is licensed under a Creative Commons Attribution-Noncommercial-No Derivative Works 4.0 License.
SOURCE Citation
Theatre Sheridan, "Gypsy, February 12 – 23, 2008" (2008). Theatre Sheridan Productions. 43.
https://source.sheridancollege.ca/faad_visu_uniq_theatre/43
Original Citation
Baron, M., & Tweed T. (Directors). (2008, February 12 – 23). Gypsy. [Theatre Performance]. Oakville: Theatre Sheridan.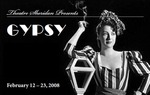 Included in
COinS