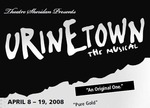 Files
Description
The groundbreaking satirical musical spoof is set in a bleak futuristic city suffering from a severe shortage of water where private bathrooms have been outlawed. Citizens must pay crippling fees to use public latrines, which are run by a monopolistic corporation. Those who cannot pay get dragged off to "Urinetown", a mysterious place from which they never return. Finally, Bobby Strong, the frustrated assistant manager of Amenity #9, leads the people in a courageous pee-for-free rebellion. Winner of 3 Tony Awards (2002), Urinetown is one of the most innovative and uproariously funny musicals in recent years.
Music by Mark Hollman, lyrics by Mark Hollman & Greg Kotis, book by Greg Kotis
Director: Marek Norman
Choreographer: Candace Jennings
Musical Director: Michael Barber
Publication Date
4-8-2008
Production Year
2007/2008
Theatre Location
Macdonald-Heaslip Hall, Sheridan
Cast
Cop, UGC Janitor, Poor Man: Jason Clarke
Josephine Strong, Old Woman: Lise Cormier
Bobby Strong: Caleb Cosman
Cop, UGC Janitor, Poor Man: David Cotton
Little Sally: Katie Edwards
Penelope Pennywise: Kate Etienne
Billy Boy Bill, UGC Executive: Daniel Greenberg
Caldwell B. Cladwell: Kyle Higgins
Becky Two-Shoes, Mrs. Millennium: Kayla James
Soupy Sue, Ula Lewinsky: Joanna Keats
Senator Fipp: Jeremy Lapalme
Mr. McQueen: Colin Lepage
Officer Lockstock: Mark Nivet
Old Man Strong, Hot Blades Harry: Doug Price
Lab technician, Poor Woman: Paige Robson-Cramer
Lab technician, Poor Woman: Genny Sermonia
Officer Barrel: Brendan Shoreman
Robbie "The Stockfish", UGC Executive: Jonathan Tan
Hope Cladwell: Alicia Toner
Tiny Tom, Dr. Billeaux: Nick Visscher
Keywords
Urinetown, Theatre Sheridan, musical theatre
Disciplines
Theatre and Performance Studies
Faculty
Faculty of Animation, Arts & Design
School
Department of Visual and Performing Arts
Creative Commons License


This work is licensed under a Creative Commons Attribution-Noncommercial-No Derivative Works 4.0 License.
SOURCE Citation
Theatre Sheridan, "Urinetown, April 8 – 19, 2008" (2008). Theatre Sheridan Productions. 44.
https://source.sheridancollege.ca/faad_visu_uniq_theatre/44
Original Citation
Norman, M. (Director). (2008, April 8 – 19). Urinetown. [Theatre Performance]. Oakville: Theatre Sheridan.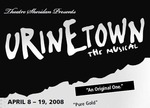 Included in
COinS