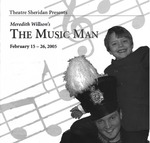 Description
Once a flautist and piccolo player for John Philip Sousa's famous marching band then turned NBC radio orchestra conductor, Meredith Willson would spend many an evening entertaining dinner guests with whimsical stories of his childhood in Mason City, Iowa. Amongst his closest friends was Broadway composer-lyricist Frank Loesser (Guys and Dolls) who encouraged Willson to develop his stories in written form. The result was Willson's 1948 best-selling memoir And There I Stood With My Piccolo. The subsequent 1957 Broadway classic The Music Man was based on the memoir. The Music Man presents many technical challenges that have prevented Theatre Sheridan from producing it - until now.
Book, music and lyrics by Meredith Willson. Story by Meredith Willson and Franklin Lacey.
Director: Greg Peterson
Choreographer: Robin Calvert
Musical Director: Steve Thomas
Publication Date
2-15-2005
Production Year
2004/2005
Theatre Location
Sheridan Hall, Sheridan
Cast
Conductor: Dan Lasby
Charlie Cowell, an anvil Salesman: Andrew McGillivray
Salesman #1: Phil Pompeo
Salesman #2: Jonathan Muzlera
Salesman #3: Stephen Gray
Salesman #4: Byron Christian Flores
Salesman #5: Justin Stadnyk
Newspaper Reader #1: Ryan Scheel
Harold Hill, Professor: Daniel Abrahamson, Steven Browne
Ezekiel Paine, a farmer: Adriano Burgo
Judith Paine, his wife: Anna Sudac
Ruthie Paine, their daughter: Lauren Busteed
Mayor George Shinn, Proprietor, River City Billiards Parlour: John Connolly
Eulalie MacKecknie Shinn, his wife: Leslie Muir
Zaneeta Shinn, their older daughter: Kier Loney
Gracie Shinn, younger daughter: Tanya Columbus
Tommy Djilas, a young ruffian: Jonathan Muzlera
Mrs. Paroo, a widow: Suzanne Hermary
Marian Paroo, her daughter, a Librarian and Piano Teacher: Laura Bonesteel, Erin Lemieux
Winthrop Paroo, Marian's young brother: Adam Cross
Oliver Hix, Manager, River City Bank: Trevor Campbell
Alma Hix, his wife: Deina Mody
Barney Hix, their son: Byron Christian Flores
Amarylis Hix, their daughter: Sarah Harwood
Ewart Dunlop, Proprietor, River City Grocery Store: Brent Thiessen
Maud Dunlop, his wife: Kristen Psiuk
Linus Dunlop, their son: Phil Pompeo
Olin Britt, Editor, River City Gazette: Chris Zonneville
Eugenia Britt, his wife: Lindsey Erin Burke
Eddie Britt, their son: Ryan Scheel
Jacey Squires, Proprietor, River City Livery Stable: Michael Hughes
Ursula Squires, his wife: Colleen Sheehan
Davey Squires, their son: Stephen Gray
Liam Squires, their son: Justin Stadnyk
Marcellus Washburn, Manager, River City Livery Stable: Jonathan Widdifield
Ethel Toffelmier, Marcellus' girlfriend: Melanie O'Brien
Mrs. Naomi Flynn, Matron, River City Irish Orphanage: Kelly Olsen
Miss Grubb, Library Assistant: Janna Polzin
Constable Locke: Dan Lasby
Wilbur Hackett, a handyman: Andrew McGillivray
Quartet: Trevor Campbell, Michael Hughes, Brent Thiessen, Chris Zonneville
Pick-a-Little Ladies: Lindsey Erin Burke, Deina Mody, Leslie Muir, Melanie O'Brien, Kelly Olsen, Janna Polzin, Kristen Psiuk, Colleen Sheehan
The 'Delsarte' Ladies: Lindsey Erin Burke, Deina Mody, Leslie Muir, Kristen Psiuk, Colleen Sheehan
Wa Tan Ye Girls: Ashley Carter, Tanya Columbus, Lindsey Frazier, Sarah Harwood
Female Dancers: Lauren Busteed, Ashley Carter, Tanya Columbus, Lindsey Frazier, Kier Loney, Heather Sande
Male Dancers: Byron Christian Flores, Stephen Gray, Jonathan Muzlera, Phil Pompeo, Ryan Scheel, Justin Stadnyk
Keywords
The Music Man, Theatre Sheridan, musical theatre
Disciplines
Theatre and Performance Studies
Faculty
Faculty of Animation, Arts & Design
School
Department of Visual and Performing Arts
Creative Commons License


This work is licensed under a Creative Commons Attribution-Noncommercial-No Derivative Works 4.0 License.
SOURCE Citation
Theatre Sheridan, "The Music Man, February 15 – 26, 2005" (2005). Theatre Sheridan Productions. 48.
https://source.sheridancollege.ca/faad_visu_uniq_theatre/48
Original Citation
Peterson, G. (Director). (2005, February 15 – 26). The music man. [Theatre Performance]. Oakville: Theatre Sheridan.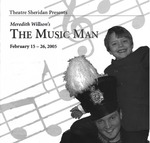 Included in
COinS