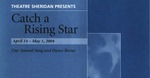 Description
Catch a Rising Star showcased the 3rd year Performance Critiques and the 2nd year Dance Critiques, as a true collaboration of creativity. As part of their curriculum, each student was assigned the task of creating a showcase for their singing and dancing talents. For Catch a Rising Star, the Director has taken the best of the best and created this extraordinary unique show, full of diverse musical styles and dances.
Director & Choreographer: Stephen Greig
Musical Director: Alan Poaps
Publication Date
4-14-2004
Production Year
2003/2004
Theatre Location
Sheridan Hall, Sheridan
Cast
Adele Campbell
Allison Mccaughey
Allison Toffan
Byron Flores
Callandra Dendias
Dylan Maher
Genevieve Boudreau
Geoffrey Arseneau
Janna Polzin
Jeff Ash
Jonathan Mailman
Kyle Golemba
Laska Sawade
Lindsey Frazier
Mathew Landon
Patricia Lackey
Rochelle Kives
Sara Alexander
Sarah Sheps
Scott Turner
Shawna van Omme
Tetiana Ostopowych
Trevor Hayes
Keywords
Catch a Rising Star, Theatre Sheridan, musical theatre
Disciplines
Theatre and Performance Studies
Faculty
Faculty of Animation, Arts & Design
School
Department of Visual and Performing Arts
Creative Commons License


This work is licensed under a Creative Commons Attribution-Noncommercial-No Derivative Works 4.0 License.
SOURCE Citation
Theatre Sheridan, "Catch a Rising Star, April 14 – May 1, 2004" (2004). Theatre Sheridan Productions. 51.
https://source.sheridancollege.ca/faad_visu_uniq_theatre/51
Original Citation
Greig, S. (Director). (2004, April 14 – May 1). Catch a rising star. [Theatre Performance]. Oakville: Theatre Sheridan.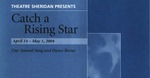 Included in
COinS