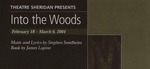 Description
Based on Fairy Tales by the Brothers Grimm, Into the Woods is an intricate weaving of the tales of Cinderella, Jack and the Beanstalk, Little Red Riding Hood and Rapunzel, with a brand new story about the Baker and his Wife. When you add an ugly Witch who always tells the truth and has the power to grant wishes, and a friendly Narrator to help the story along, it's an eclectic mix.
The story appears to be happily resolved at intermission. Each of the main characters seems to have achieved their goals, or have they? As Cinderella's dead mother says to her: "Are you certain what you wish is what you want?" Things and people are not always what they seem to be.
In the second act as the characters have to deal with the consequences of their single-minded pursuit of their wishes, they are forced to come together in a communal effort to overcome the peril in which they find themselves.
The show was filled with glorious music. The very first musical statement; was five single notes as the "magic bean" theme and they occurred throughout the show in various songs or to underscore scenes. They were also memorably inverted in the very last song in the show. The "theme" means that something magical can happen.
Music and lyrics by Stephen Sondheim, book by James Lapine
Director: Christina James
Choreographer: Sarah Slywchuk
Musical Director: Michael Mulrooney
Publication Date
2-18-2004
Production Year
2003/2004
Theatre Location
Sheridan Hall, Sheridan
Cast
Narrator: Matthew Landon
Cinderella: Sarah Blair Irwin
Jack: Trevor Covelli
Jack's Mother: Melodie Lemon
Milky White: Rebecca Townes
Baker: Scott Turner
Baker's Wife: Tricia Lackey
Cinderella's Stepmother: Allison Toffan
Florinda: Allison McCaughey
Lucinda: Laska Sawade
Cinderella's Father: Steven Browne
Little Red Ridinghood: Sarah Sheps
Witch: Shawna van Omme
Cinderella's Mother: Christina Pagel
Mysterious Man: Geoffrey Arseneau
Wolf: Dylan Maher
Rapunzel: Sarah Slywchuk
Rapunzel's Prince: Brent Thiessen
Granny: Christina Pagel
Cinderella's Prince: Dylan Maher
Steward: Adriano Burgo
Voice of Baby & the Harp: Lindsey Erin Burke
Giant: Christina Pagel
Snow White: Rebecca Townes
Sleeping Beauty: Andria Angelosante
People in the Woods: Andria Angelosante, Lindsey Erin Burke, Suzanne Hermary, Michael Hughes, Carrie-Lynn Neales
Special 'magic': Carrie-Lynn Neales
Keywords
Into the Woods, Theatre Sheridan, musical theatre
Disciplines
Theatre and Performance Studies
Faculty
Faculty of Animation, Arts & Design
School
Department of Visual and Performing Arts
Creative Commons License


This work is licensed under a Creative Commons Attribution-Noncommercial-No Derivative Works 4.0 License.
SOURCE Citation
Theatre Sheridan, "Into The Woods, February 18 – March 6, 2004" (2004). Theatre Sheridan Productions. 52.
https://source.sheridancollege.ca/faad_visu_uniq_theatre/52
Original Citation
James, C. (Director). (2004, February 18 – March 6). Into the woods. [Theatre Performance]. Oakville: Theatre Sheridan.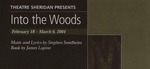 Included in
COinS