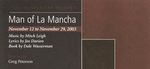 Description
Man of La Mancha, is based on episodes from Miguel de Cervante's original 1615 novel Don Quixote, and written by three relatively novice writers - Mitch Leigh, a Madison Avenue commercial jingle-composer, Joe Darion, a journalism graduate, and Dale Wasserman, a television script writer.
The Time: Spain at the end of the 16th century during the inquisition.
The Place: The common room of a prison vault in the city of Seville and various other places in the imagination of Miquel de Cervantes.
Music by Mitch Leigh, lyrics by Joe Darion, book by Dale Wasserman
Director: Greg Peterson
Choreographer: Gillian Saunders-Herron
Musical Director: Michael Barber
Publication Date
11-12-2003
Production Year
2003/2004
Theatre Location
Sheridan Hall, Sheridan
Cast
In the Prison Vault:
Cantaor: Trevor Covelli
Captain of the Inquisition: Ben Graham
Prison Guard #1: Spencer Hari
Prison Guard #2: Geoffrey Arseneau
Miguel de Cervantes: Tom Delbello
Manservant: Matt Boden
Governor: Jonathan Mailman
Duke: Dan Falk
Prisoners: Sara Alexander, Geoffrey Arseneau, Jeff Ash, Alyssa Becker, Leanne Boland, Saccha Dennis, Aundrea Dlouhy, Ben Graham, Spencer Hari, Melodie Lemon, Dylan Maher, Landon Matthews, Tetiana Ostapowych, Sarah Slywchuk, Scott Turner, Shawna Van Omme

Roles Taken by the Prisoners:
Quijana's Household
Alonso Quijana/Don Quixote de la Mancha: Tom Delbello
Sancho Panza: Matt Boden
Horse: Saccha Dennis, Tetiana Ostapowych
Mule: Spencer Hari
Antonia, Alonso's neice: Sara Alexander
Dr. Sanson Carrasco, her finance: Dan Falk
Alonso's Housekeeper: Alyssa Becker
Padre: Trevor Covelli

The Inn
The Innkeeper: Jonathan Mailman
Maria, the Innkeeper's wife: Melodie Lemon
Aldonza, a serving girl: Saccha Dennis, Tetiana Ostapowych
Fermina, a serving girl: Sarah Slywchuck

The Muleteers
Jose: Jeff Ash
Tenorio: Dylan Maher
Paco: Geoffrey Arseneau
Juan: Ben Graham
Anselmo: Scott Turner
Pedro: Landon Matthews
A Barber: Spencer Hari
The Knight of the Mirrors: Dan Falk
Attendant #1: Landon Matthews
Attendant #2: Scott Turner
Attendant #3: Dylan Maher

On the roadside to the Inn
Moorish Dancer #1: Shawna Van Omme
Moorish Dancer #2: Leanne Boland
Moorish Dancer #3: Aundrea Dlouhy
Gypsy #1: Geoffrey Arseneau
Gypsy #2: Ben Graham
Gypsy #3: Jeff Ash
Keywords
Man of La Mancha, Theatre Sheridan, musical theatre
Disciplines
Theatre and Performance Studies
Faculty
Faculty of Animation, Arts & Design
School
Department of Visual and Performing Arts
Creative Commons License


This work is licensed under a Creative Commons Attribution-Noncommercial-No Derivative Works 4.0 License.
SOURCE Citation
Theatre Sheridan, "Man of La Mancha, November 12 – 29, 2003" (2003). Theatre Sheridan Productions. 53.
https://source.sheridancollege.ca/faad_visu_uniq_theatre/53
Original Citation
Peterson, G. (Director). (2003, November 12 – 29). Man of la Mancha. [Theatre Performance]. Oakville: Theatre Sheridan.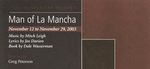 Included in
COinS