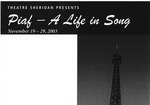 Description
Born in Paris in 1913 - legend has it she came into the world on top of a gendarme's cape under a gas street-lamp - Edith Piaf at the peak of her career was France's own superstar. Her tragic life, a life full of death, abandonment, destructive relationships, and substance abuse has been the subject of books, documentary films, dramatic films, and made for television biographies. She herself wrote her own biography, arguably a work of fiction. Despite the wealth of material chronicling her journey on this earth, it is through her music that the true spirit of the "Little Sparrow of Paris" can be felt. With this show Theatre Sheridan pays homage to her struggles by imagining the women of Paris whose own lives, loves and losses are so achingly evoked in the songs and stories that made a career.
Director: Katherine Kaszas
Choreographer: Sarah Slywchuk
Musical Director: Christopher Mounteer
Publication Date
11-19-2003
Production Year
2003/2004
Theatre Location
Studio Theatre, Sheridan
Cast
Genevieve Boudreau
Dena Chiarcossi
Sarah Blair Irwin
Rochelle Kives
Tricia Lackey
Allison Mccaughey
Christina Pagel
Laska Sawade
Sarah Sheps
Adam Stevenson
Ioana Theodora
Allison Toffan
Rebecca Townes
Keywords
Piaf – a life in song, Theatre Sheridan, musical theatre
Disciplines
Theatre and Performance Studies
Faculty
Faculty of Animation, Arts & Design
School
Department of Visual and Performing Arts
Creative Commons License


This work is licensed under a Creative Commons Attribution-Noncommercial-No Derivative Works 4.0 License.
SOURCE Citation
Theatre Sheridan, "Piaf – A Life In Song, November 19 – 29, 2003" (2003). Theatre Sheridan Productions. 54.
https://source.sheridancollege.ca/faad_visu_uniq_theatre/54
Original Citation
Kaszas, K. (Director). (2003, November 19 – 29). Piaf – a life in song. [Theatre Performance]. Oakville: Theatre Sheridan.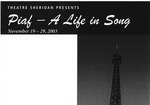 Included in
COinS