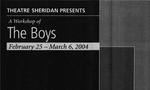 Description
This was a workshop production of The Boys by Joey Miller and Frank Peppiatt.
Though they come in different styles and venues, workshop productions share four similar qualities:
1) They are presentations of brand new plays which have never been seen by an audience anywhere before.
2) They change night-to-night depending on the reaction of the audience.
3) The changes will be small (the insertion or deletion of a line of dialogue or a costume) or large (the insertion or deletion of a song, a scene, a character or an entire act) depending on the reaction of the audience the night before.
4) The play will be different at the end of the process. "Workshopping" is the modern method of developing plays, which replaced the old method of "out-of-town-try-outs." This time consuming process was too expensive to continue. In workshops, most changes are made in rehearsal. Theatre Sheridan had six weeks during which the actors and production staff created then discarded many versions of each scene presented.
Music and lyrics by Joey Miller, book and lyrics by Frank Peppiatt
Director: Duncan McIntosh
Choreographer: Allison Plamondon
Musical Director: Christopher Mounteer
Publication Date
2-25-2004
Production Year
2003/2004
Theatre Location
Studio Theatre, Sheridan
Cast
Johnny Wayne: Matt Boden
Frank Shuster: Dan Falk
Bea: Joana Theodora
Ruth: Dena Chiarcossi
Miss Klausheimer: Saccha Dennis
Liz: Tetiana Ostapowych
Jack: Ben Graham
Paul: Spencer Hari
Ruth's Father: Jeff Ash
Agent: Alyssa Becker
Helen Wheels: Aundrea Dlouhy
Terry at CBC: Leanne Boland
Littlest Showgirl: Rachel Brittain
Hotel Maid: Rhoslynne Bugay
CBC Stagehand: Kier Loney
Statuesque Showgirl: Stefanie Lyall
CBC Model: Leslie Muir
Hotel Manager: Kristen Psuik
Hat & Cane Girl: Sarah Alexander
Russian Gymnast: Billy Lake
Sergeant: Jeigh Madjus
Alex Barris: Justin Ruttan
Mailman: Jonathan Mailman
Ed Sullivan: Jonah Widdifield
Paul Ramoni: Daniel Abrahamson
Choreographer: Genvieve Boudreau
Luigi: Tom Delbello
Googi Garett: Rochelle Kives
Googi's Agent: Alanna Stone
Talent Coordinator: Kelly Olsen
All other roles played by members of the ensemble.
Keywords
The Boys, Theatre Sheridan, musical theatre
Disciplines
Theatre and Performance Studies
Faculty
Faculty of Animation, Arts & Design
School
Department of Visual and Performing Arts
Creative Commons License


This work is licensed under a Creative Commons Attribution-Noncommercial-No Derivative Works 4.0 License.
SOURCE Citation
Theatre Sheridan, "A Workshop of 'The Boys', February 25 – March 6, 2004" (2004). Theatre Sheridan Productions. 55.
https://source.sheridancollege.ca/faad_visu_uniq_theatre/55
Original Citation
McIntosh, D. (Director). (2004, February 25 – March 6). The boys. [Theatre Performance]. Oakville: Theatre Sheridan.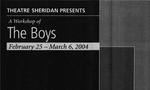 Included in
COinS