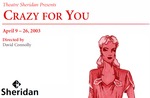 Description
A musical of glitter and glamour, of style and show tunes and incessant laughter.
Music and lyrics by George & Ira Gershwin. Book by Ken Ludwig, co-conception by Ken Ludwig & Mike Ockrent, inspired by material by Guy Bolton & John McGowan.
Director: David Connolly
Choreographer: Jim White
Musical Director: Michael Mulrooney
Publication Date
4-9-2003
Production Year
2002/2003
Theatre Location
Sheridan Hall, Sheridan
Cast
New York
Bobby Child: Craig Fair
Bela Zangler: Michael Power
Irene Roth: Jennifer Braund
Mother: Holly Merritt

Follies Crew
Dorothy: Sara Alexander
Myrna: Allison Toffan
Ruth: Leanne Boland
Molly: Saccha Dennis

Deadrock
Polly Baker: Lisa Lennox
Lank Hawkins: Matt Irvine
Everett Baker: Geofrey Arseneau
Eugene Fodor: Jamie Caton
Patricia Fodor: Amanda Jollimore

Cowboys
Sam (Trio): Jory Rossiter
Billy (Trio): Cliff Sardhina
Wyatt (Trio): Stewart McKensey
Moose/Perkins: Jeff Ash
Junior/Zangler Lackey: Ben Graham
Pete/Zangler Lackey: Matthew Evilsizor
Custus/Chauffeur: Jonathan Mailman
Mingo: Dylan Maher

Follies Girls
Tess: Sophie Hunter
Patsy: Eran Goodyear
Mitzi: Lora Cotter
Elaine: Kate Campbell
Louise: Genevieve Boudreau
Susie: Allison Mccaughey
Betsy: Shawna Van Omme
Margie: Laska Sawade
Vera: Sarah Slywchuk
Sheila: Deena Chiarocossi
Keywords
Crazy for You, Theatre Sheridan, musical theatre
Disciplines
Theatre and Performance Studies
Faculty
Faculty of Animation, Arts & Design
School
Department of Visual and Performing Arts
Creative Commons License


This work is licensed under a Creative Commons Attribution-Noncommercial-No Derivative Works 4.0 License.
SOURCE Citation
Theatre Sheridan, "Crazy for You, April 9 – 26, 2003" (2003). Theatre Sheridan Productions. 56.
https://source.sheridancollege.ca/faad_visu_uniq_theatre/56
Original Citation
Connolly, D. (Director). (2003, April 9 – 26). Crazy for you. [Theatre Performance]. Oakville: Theatre Sheridan.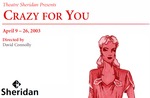 Included in
COinS