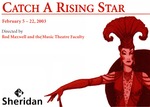 Description
Catch a Rising Star showcased the 3rd year Performance Critiques and the 2nd year Dance Critiques, as a true collaboration of creativity. As part of their curriculum, each student was assigned the task of creating a showcase for their singing and dancing talents. For Catch a Rising Star, the Directors have taken the best of the best and created this extraordinary unique show, full of diverse musical styles and dances.
Director: Rod Maxwell
Choreographer: Stephen Greig
Musical Director: Steve Thomas
Publication Date
2-5-2003
Production Year
2002/2003
Theatre Location
Sheridan Hall, Sheridan
Cast
Masters of Ceremony: Virginia Cowan, Michael Power

Sara Alexander
Geoff Arseneau
Jeff Ash
Veronica Bachiu
Alyssa Becker
Matt Boden
Leanne Boland
Jennifer Braund
Brock Burford
Julie Burns
Kate Campbell
Jamie Caton
Dena Chiarcossi
Trevor Covelli
Virginia Cowan
Tom Delbello
Saccha Dennis
Andrea Dlouhy
Matt Evilsizor
Craig Fair
Eran Goodyear
Ben Graham
Spencer Hari
Joana Hasapis
Sophie Hunter
Matt Irvine
Sarah Blair Irwin
Amanda Jollimore
Julia Juhas
Rochelle Kives
Jordan L'Abbe
Phedra L''Abbe
Lisa Lennox
Dylan Maher
Jonathan Mailman
Anna Maclean
Allison McCaughey
Stewart A. McKensy
Holly Merritt
Daphne Moens
Tetiana Ostapowych
Christina Pagel
Michael Power
Jory Rossiter
Laska Sawade
Cliff Sardinha
Sarah Sheps
Sarah Slywchuk
Lisa Sonshine
Becca Townes
Sheena Turcotte
Scott Turner
Shawna Van Omme
Keywords
Catch a Rising Star, Theatre Sheridan, musical theatre
Disciplines
Theatre and Performance Studies
Faculty
Faculty of Animation, Arts & Design
School
Department of Visual and Performing Arts
Creative Commons License


This work is licensed under a Creative Commons Attribution-Noncommercial-No Derivative Works 4.0 License.
SOURCE Citation
Theatre Sheridan, "Catch a Rising Star, February 5 – 22, 2003" (2003). Theatre Sheridan Productions. 57.
https://source.sheridancollege.ca/faad_visu_uniq_theatre/57
Original Citation
Maxwell, R. (Director). (2003, February 5 – 22). Catch a rising star. [Theatre Performance]. Oakville: Theatre Sheridan.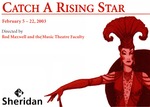 Included in
COinS