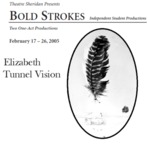 Description
BOLD STROKES productions are Sheridan's Independent Student Productions. This year's production is two one-act productions entitled Elizabeth, and Tunnel Vision.
Elizabeth
Conceived, Directed & Choreographed: Kyle Golemba
Artistic Direction: Scot Denton
Lighting designed: Adam Stewart
Tunnel Vision
Story by Dan Falk, music & lyrics by Daniel Abrahamson
Directed & Choreographed: Trevor Hayes
Musical Direction: Christopher Mounteer
Artistic Direction: Scot Denton
Publication Date
2-17-2005
Production Year
2004/2005
Theatre Location
Studio Theatre, Sheridan
Cast
Elizabeth

Young Elizabeth: Rebecca Stewart
Elizabeth: Adele Campbell
Annie: Lana Sugarman
Tamara: Carrie Lynn Neales
John: Vicente Pimentel
Jim/Thom/Friend: Dan Dyer
Eric/Friend/Son: Dustin Redshaw
Mark/Friend: Billy Lake
Theresa/Friend: Rhoslynne Bugay
Ensemble: Andria Angelosante, Rachel Brittain, Rhoslynne Bugay, Danielle Getz, Stefanie Lyall, Justin Ruttan, Alanna Stone, Jennifer Walls

Tunnel Vision

Joyce: Erin Pim
Lyle: Zac Hutton
Warren: Nick Watson
James: Jeigh Madjus
Chase: Billy Lake
Allan: Daniel Brenner
Reporter: Andria Angelosante
Camera Operator: Rachel Brittain
Lindsay: Danielle Getz
Candice: Stefanie Lyall
Reporter, Policeman: Justin Ruttan
Boom Operator: Alanna Stone
Ashley: Jennifer Walls
Keywords
Bold Strokes, Tunnel Vision, Elizabeth, Sheridan's independent student productions, Theatre Sheridan, musical theatre
Disciplines
Theatre and Performance Studies
Faculty
Faculty of Animation, Arts & Design
School
Department of Visual and Performing Arts
Creative Commons License


This work is licensed under a Creative Commons Attribution-Noncommercial-No Derivative Works 4.0 License.
SOURCE Citation
Theatre Sheridan, "Bold Strokes: Elizabeth & Tunnel Vision, February 17 – 26, 2005" (2005). Theatre Sheridan Productions. 58.
https://source.sheridancollege.ca/faad_visu_uniq_theatre/58
Original Citation
Golemba, K. (Director). (2005, February 17 – 26). Elizabeth [Theatre Performance]. Oakville: Theatre Sheridan.
Hayes, T. (Director). (2005, February 17 – 26). Tunnel vision [Theatre Performance]. Oakville: Theatre Sheridan.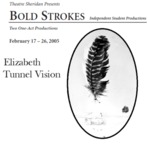 Included in
COinS