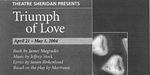 Description
Marivaux (1688-1742) the author of the play on which this delightful chamber musical is based, was a commissioned playwright for the Comedie Italienne, a troupe of exiled Italian actors who performed Commedia dell' Arte inspired comedies in Paris. Marivaux wrote one play a year for this company over a period of 20 years, all of them dealing with characters who discover they are in love, but have difficulty expressing their feelings. Although the action of this piece takes place in ancient Greece, you will discover that the setting and costumes are distinctly mid-1700s. It was Marivaux's practice to dress his actors in contemporary clothing in order to underline the parallels between the situations encountered by his characters to those in contemporary life. To honour this tradition, the musical adds anachronistic modern references to its text and its music is a stylistic blend of ancient militaristic, Baroque, and modern swing.
The setting: Ancient Greece: The manicured gardens on the estate of Lord Hermocrates on the outskirts of Sparta.
Book by James Magruder. Music by Jeffrey Stock, lyrics by Susan Birkenhead. Based on the play by Marivaux.
Director: Greg Peterson
Choreographer: Gillian Saunders
Musical Director: Steve Thomas
Publication Date
4-21-2004
Production Year
2003/2004
Theatre Location
Studio Theatre, Sheridan
Cast
Agis: Ben Graham
Hesione: Christina Pagel
Harlequin: Spencer Hari
Dimas: John Connolly
Hermocrates: Dan Falk
Princess Leonide: Rebecca Townes
Corine: loana Theodora
Keywords
Triumph of Love, Theatre Sheridan, musical theatre
Disciplines
Theatre and Performance Studies
Faculty
Faculty of Animation, Arts & Design
School
Department of Visual and Performing Arts
Creative Commons License


This work is licensed under a Creative Commons Attribution-Noncommercial-No Derivative Works 4.0 License.
SOURCE Citation
Theatre Sheridan, "Triumph of Love, April 21 – May 1, 2004" (2004). Theatre Sheridan Productions. 59.
https://source.sheridancollege.ca/faad_visu_uniq_theatre/59
Original Citation
Peterson, G. (Director). (2004, April 21 – May 1). Triumph of love [Theatre Performance]. Oakville: Theatre Sheridan.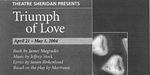 Included in
COinS