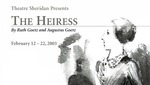 Description
The Heiress is an adaptation of the 1881 novel Washington Square by Henry James. James crafted a minutely detailed portrait of life among the New York aristocracy with his characteristic attention to historical accuracy. (James drew on his personal knowledge of Washington Square society for the novel. His grandmother had lived at No. 18 Washington Square North and he grew up around the corner on Washington Place.)
Ruth and Augustus Goetz have fashioned from the novel a thrilling and intense script.
Director: Scot Denton
Publication Date
2-12-2003
Production Year
2002/2003
Theatre Location
Studio Theatre, Sheridan
Cast
Maria: Genevieve Boudreau
Dr. Austin Sloper: Jean-Francois Poulin
Lavinia Penniman: Tricia Lackey
Catherine Sloper: Lora Cotter
Elizabeth Almond: Melodie Lemon
Arthur Townsend/Coachman: Daniel Falk
Marian Almond: Michelle M. Kaye
Morris Townsend: Patrick Cook
Mrs. Montgomery: Allison Toffan
Keywords
The Heiress, Theatre Sheridan, musical theatre
Disciplines
Theatre and Performance Studies
Faculty
Faculty of Animation, Arts & Design
School
Department of Visual and Performing Arts
Creative Commons License


This work is licensed under a Creative Commons Attribution-Noncommercial-No Derivative Works 4.0 License.
SOURCE Citation
Theatre Sheridan, "The Heiress, February 12 – 22, 2003" (2003). Theatre Sheridan Productions. 62.
https://source.sheridancollege.ca/faad_visu_uniq_theatre/62
Original Citation
Denton, S. (Director). (2003, February 12 – 22). The heiress [Theatre Performance]. Oakville: Theatre Sheridan.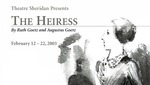 Included in
COinS