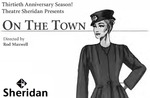 Description
Three sailors on a 24-hour shore leave in New York City during wartime 1944. Each of the three sailors meets and quickly connects with a woman.
Music by Leonard Bernstein, book and lyrics by Betty Comden and Adolph Green
Based on an idea by Jerome Robbins
Director: Rod Maxwell
Choreographer: David Connolly
Musical Director: David Meyrs
Production Year
2002/2003
Theatre Location
Sheridan Hall, Sheridan
Cast
Ozzie: Jean-Francois Poulin
Chip: Patrick Cook
Gabie: Jory Rossiter
Hildy Esterhazy: Heather McGuigan
Claire De Loone: Julia Juhas
Ivy Smith: Veronica Bachiu, Kate Campbell
Madame Maude P. Dilly: Lisa Sonshine
Judge Pitkin W. Bridgework: Michael Power
Lucy Schmeeler: Sheena Turcotte
Flossie: Holly Merritt
Flossie's Girl Friend: Lora Cotter
Subway Bill Poster: Jordan L'Abbe
Little Old Lady: Virginia Cowan
Mr. S. Uperman: Brock Burford
Waldo Figment: Jamie Caton
Master of Ceremonies: Craig Fair
Policeman: Matt Irvine
First Workman: Matt Irvine
Ms. Turnstile's Announcer: Jamie Caton
Diana Dream: Jennifer Braund
Dolores Dolores: Julie Burns
Rajah Bimmy: Jordan L'Abbe
Claire (Double): Eran Goodyear
Ivy (Double): Sophie Hunter
Hildy (Double): Lisa Lennox
Chip (Double): Jamie Caton
Ozzie (Double): Craig Fair
Opening Quartet: Jamie Caton, Craig Fair, Michael Power, Cliff Sardinha
Bird Girls/Lonely Town Dancers: Eran Goodyear, Sophie Hunter, Lisa Lennox
Cavemen: Brock Burford, Craig Fair, Cliff Sardinha
Diamond Eddy Girls: Eran Goodyear, Sophie Hunter, Amanda Jollimore, Michele M. Kaye, Phedra L'Abbe, Holly Merritt
Chorus: Jennifer Braund , Brock Burford, Julie Burns, Jamie Caton, Lora Cotter, Virginia Cowan, Craig Fair, Eran Goodyear, Sophie Hunter, Matt Irvine , Amanda Jollimore, Michele M. Kaye, Jordan L'Abbe, Phedra L'Abbe, Lisa Lennox, Holly Merritt, Michael Power, Sheena Turcotte, Cliff Sardinha
Keywords
On the Town, Theatre Sheridan, musical theatre
Disciplines
Theatre and Performance Studies
Faculty
Faculty of Animation, Arts & Design
School
Department of Visual and Performing Arts
Creative Commons License


This work is licensed under a Creative Commons Attribution-Noncommercial-No Derivative Works 4.0 License.
SOURCE Citation
Theatre Sheridan, "On The Town, November, 2002" (2002). Theatre Sheridan Productions. 63.
https://source.sheridancollege.ca/faad_visu_uniq_theatre/63
Original Citation
Maxwell, R. (Director). (2002, November). On the town [Theatre Performance]. Oakville: Theatre Sheridan.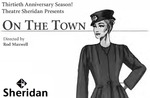 Included in
COinS