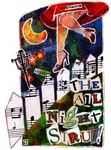 Description
A musical review exploring life during the Depression, World War II and the Post-War Boom era through the jazz, blues and bebop music innovations of that time. The review samples the works of artists like Hoagie Carmichael, Frank Loesser, Duke Ellington and The Gershwins to explore what life was like in a two act extravaganza.
Director: Rod Maxwell
Choreographer: Stephen Greig
Musical Director: Anthony Bastianon
Publication Date
11-13-1997
Production Year
1997/1998
Theatre Location
Sheridan Hall
Cast
Juke Box Saturday Night: Company, featuring Erin Archer, Andrew Pike
Minnie The Moocher: Company, featuring Matt Cassidy
Brother Can You Spare A Dime?: Christian Bellsmith, Franc Anton, Dan Boucher
In The Mood: Company, featuring Krista Konkin, Danielle Wolstat, Derek Marshall
A Nightingale Sang In Berkeley Square: Sherry Garner
Fascinating Rhythm: Danielle Gauthier, Christian Bellsmith
Java Jive: Montè Gagnè, Santiago Garcia, Andrea Peters, Shawn Firlotte
World War II Medley: Melanie Phillipson, Anna Kostancar, Andrew Pike, Marianne Turner, Dan Boucher, Geneviève Cholette, Anthony Rauchberger, Sonia Bentivoglio, Valerie Massè, Danielle Wolstat
I Get Ideas: Rebecca Llewellyn, Derek Marshall, Santiago Garcia
Ain't Misbehavin': Melanie Phillipson, Valeria Massè, Anthony Malarky, Matt Cassidy
Operator: Company, featuring Marianne Turner, Danielle Gauthier, Montè Gagnè
Dream: Anna Kostancar
Beat Me Daddy, Eight To The Bar: Company
Tuxedo Junction: Sarah Rankin, Danielle Wolstat, Krista Konkin, Karen Bender, Andrew Pike, Anthony Malarky, Anthony Rauchberger, Matt Cassidy
Hit That Jive, Jack: Company Men, featuring Derek Marshall, Franc Anton, Shawn Firlotte
It Don't Mean A Thing If lt Ain't Got That Swing: Company, featuring Melanie Phillipson, Krista Konkin, Anna Kostancar
Billie's Bounce: Sherry Garner, Erin Archer, Anthony Malarky, Christian Bellsmith
It Don't Mean A Thing If lt Ain't Got That Swing: Company
Finale: Company, featuring Our Audience

Dancers
Overture: Melanie Phillipson, Matt Cassidy
Juke Box Saturday Night: Karen Bender, Derek Marshall, Krista Konkin, Anthony Rauchberger, Danielle Wolstat, Dan Boucher
Fascinating Rhythm: Genevieve Cholette, Derek Marshall, Karen Bender, Matt Cassidy
I Get Ideas: Sarah Rankin, Karen Bender

Back-Up Groups
Ink Spots: Montè Gagnè, Danielle Gauthier, Christian Bellsmith
A Nightingale Sang In Berkeley Square: Sonia Bentivoglio, Franc Anton, Liana Primerano, Shawn Firlotte
Dream: Erin Archer, Andrew Pike, Anthony Rauchberger

Company
Anthony Malarky
Andrea Peters
Erin Archer
Karen Bender
Matt Cassidy
Monte Gagne
Danielle Gauthier
Rebecca Llewellyn
Valerie Masse
Andrew Pike
Anthony Rauchberger
Frank Anton
Sonia Bentivoglio
Genevieve Cholette
Santiago Garcia
Krista Konkin
Liana Primerano
Marianne Turner
Christian Bellsmith
Dan Boucher
Shawn Firlotte
Sherry Gamer
Anna Kostancar
Derek Marshall
Melanie Phillipson
Sarah Rankin
Danielle Wolstat
Keywords
The All Night Strut, Theatre Sheridan, musical theatre
Disciplines
Theatre and Performance Studies
Faculty
Faculty of Animation, Arts & Design
School
Department of Visual and Performing Arts
Creative Commons License


This work is licensed under a Creative Commons Attribution-Noncommercial-No Derivative Works 4.0 License.
SOURCE Citation
Theatre Sheridan, "The All Night Strut, November 13 – 29, 1997" (1997). Theatre Sheridan Productions. 64.
https://source.sheridancollege.ca/faad_visu_uniq_theatre/64
Original Citation
Maxwell, R. (Director). (1998, March 5-8). The all night strut [Theatre Performance]. Oakville: Theatre Sheridan.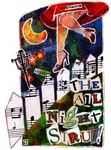 Included in
COinS