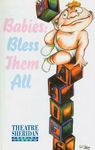 Description
A musical comedy created by Cliff Jones exploring the hopes and dreams of babies by babies.
Anyone who is a parent or has baby-sat, or for that matter remembers being a kid, can identify with Babies and their challenges and attitudes towards that big, wide, wonderful, scary world that stands before them or that dark abyss that they seem to be creeping towards.
Imagine A Chorus Line in the hospital nursery. Babies from one day old to two weeks old singing and dancing about their hopes and dreams, and of course their futures!
Book, music and lyrics by Cliff Jones.
Director: Rod Maxwell
Choreographer: Stephen Greig
Musical Director: Jean Minielly
Publication Date
11-14-1996
Production Year
1996/1997
Theatre Location
Sheridan Hall, Sheridan
Cast
Fiona: Tammy Sutherland
Everett: Andrew Innes
Mike: Jason Chesworth
Georgie: Cara Gowing
Cindy: M. J. Johnson
Sly: Ted Hallett
Tammy: Chantelle Wilson
Sid: John Dixon
Nadine: Kim Jamieson & Rebewz Shoichet
Robb: Randolph James Johnston
Jenny-Lee: Julie Laferriere & Krisma Melanee Travis
Booker: Jay Davis
Melanie: Gwen Carroll
Ashley: Sean Ban Beaton
Frannie: Samantha Collard
Eve: Tina Maddigan
Tracey: Sarah Strange
Heather: Aimee Lococo
Back ups: Rebecca Shoichet, Chantelle Wilson & M. J. Johnson
Dancers: Krisma Meianee Travis, Tina Maddigan, Samantha Collard, Cara Gowing & Aimee Lococo
Keywords
Babies: Bless Them All, Theatre Sheridan, musical theatre
Disciplines
Theatre and Performance Studies
Faculty
Faculty of Animation, Arts & Design
School
Department of Visual and Performing Arts
Creative Commons License


This work is licensed under a Creative Commons Attribution-Noncommercial-No Derivative Works 4.0 License.
SOURCE Citation
Theatre Sheridan, "Babies: Bless Them All, November 14 – 30, 1996" (1996). Theatre Sheridan Productions. 65.
https://source.sheridancollege.ca/faad_visu_uniq_theatre/65
Original Citation
Maxwell, R. (Director). (1996, November 14 - 30). Babies: Bless them all [Theatre Performance]. Oakville: Theatre Sheridan.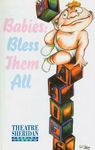 Included in
COinS