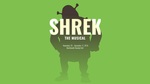 Description
Based on the smash hit animated film series, this live adaptation brings the hilarious story of everyone's favourite ogre to the stage. In a far away kingdom turned upside down by the insecure and conniving Lord Farquaad, an ogre – not a handsome prince – shows up to rescue the feisty princess Fiona. Throw in a wisecracking Donkey, a fire-breathing Dragon, a Cookie with attitude and over a dozen other fairy tale misfits, and you've got the kind of mess that calls for a real hero. Luckily, there's one on hand and his name is Shrek. Perfect for children and families, Shrek the Musical marries the bawdy humour of the original film with spectacular musical numbers added for the Broadway production.
Based on the DreamWorks Animation Motion Picture and book by William Steig. Book and lyrics by David Lindsay-Abaire. Music by Jeanine Tesori.
Director: Keith Pike
Choreographer: Nicola Pantin
Musical Director: Joseph Tritt
Publication Date
11-29-2016
Production Year
2016/2017
Theatre Location
Macdonald-Heaslip Hall, Sheridan
Cast
Elf, Young Fiona, Blind Mouse: Danielle Beauchamp
Mama Ogre, Duloc, Rat: Olivia Sinclair Brisbane
Fiona: Mariah Campos
Papa Ogre, Peter Pan: Ben Cookson
Donkey: Joel Cumber
Little Pig, Duloc, Rat: Marisa Dashney
Shrek: Benjamin Doncom
Sugar Plum Fairy, Blind Mouse: Fay Gamliel
Fairy Godmother, City Greeter, Rat: Heather Kosik
Teen Fiona, Duloc, Rat: Madelyn Kriese
Dragon: Ben Litner
Ugly Duckling, Bishop, Duloc, Dragon Dancer, Rat: Connor Lucas
Big Bad Wolf, Knight, Duloc, Rat: Ruaridh Macdonald
Biker Bear, Duloc, Rat: Sophie Lea McLeod
Puss N Boots, Duloc, Dragon Dancer, Rat: Reid McTavish
Mad Hatter, Rat: Mario Pacheco
Humpty Dumpty, Pied Piper, Knight: Alex Panneton
Pinocchio, King Harold, Rat: Jean Paul Parker
Little Pig, Rat: Emma Rudy
Lord Farquaad: Harrison John Royal Smith
White Rabbit, Duloc, Rat: Polly Summerhayes
Gingy, Biker Bear, Knight: Kayden Tonita
Little Pig, Rat: Kelsey Verzotti
Wicked Witch, Blind Mouse, Captain of the Guard: Julia Vos
Dwarf, Biker Bear, Guard: Mitch Wood
Keywords
Shrek, Theatre Sheridan, musical theatre
Disciplines
Theatre and Performance Studies
Faculty
Faculty of Animation, Arts & Design
School
Department of Visual and Performing Arts
Creative Commons License


This work is licensed under a Creative Commons Attribution-Noncommercial-No Derivative Works 4.0 License.
SOURCE Citation
Theatre Sheridan, "Shrek, the Musical, November 29 – December 11, 2016" (2016). Theatre Sheridan Productions. 66.
https://source.sheridancollege.ca/faad_visu_uniq_theatre/66
Original Citation
Pike, K. (Director). (2016, November 29 – December 11). Shrek, the musical [Theatre Performance]. Oakville: Theatre Sheridan.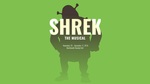 Included in
COinS