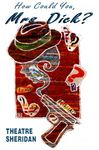 Description
The story of Evelyn Grant Mclean Dick is one of the most enduring murder mysteries that occurred in Hamilton, Ontario in 1946. Evelyn Dick was implicated in the killing of her husband whose dismembered body parts were discovered. The play stages what may have occurred 50 years ago and tries to tell the notorious story about a crime that was committed in one of Theatre Sheridan's communities. It gives the audience an inside look at a piece of bizarre Canadian history.
Director: Douglas Rodger
Publication Date
4-16-1998
Production Year
1997/1998
Theatre Location
Sheridan Hall, Sheridan
Cast
Keith Edwards: Anthony Malarky
Iris Muirson: Rebecca Llewellyn
Sgt. Clarence Preston: Shawn Firlotte
Inspector Charles Wood: Matt Cassidy
Alexandra MacLean: Monte Gagne
Donald MacLean: Dan Boucher
Evelyn MacLean Dick: Sherry Garner
John Dick: Christian Bellsmith
Fight Captain: Matt Cassidy
Dramatic Coach: Barbara Gordon
Keywords
How Could You, Mrs. Dick?, Theatre Sheridan, musical theatre
Disciplines
Theatre and Performance Studies
Faculty
Faculty of Animation, Arts & Design
School
Department of Visual and Performing Arts
Creative Commons License


This work is licensed under a Creative Commons Attribution-Noncommercial-No Derivative Works 4.0 License.
SOURCE Citation
Theatre Sheridan, "How Could You, Mrs. Dick? April 16 – May 2, 1998" (1998). Theatre Sheridan Productions. 70.
https://source.sheridancollege.ca/faad_visu_uniq_theatre/70
Original Citation
Douglas, R. (Director). (1998, June 10-13). How could you, Mrs. Dick? [Theatre Performance]. Oakville: Theatre Sheridan.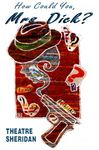 Included in
COinS