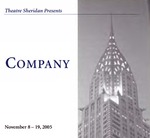 Description
Company is set in New York City, 1970. For musical theatre fans and historians, it is a very important work, since it marks the beginning of the "concept" musical, a form created by the team of Stephen Sondheim and Hal Prince (Follies, A Little Night Music, Pacific Overtures, Sweeney Todd, Merrily We Roll Along). The concept musical explores a theme; it revolves around an issue rather than a traditional plot. The theme of Company is contemporary (1970) marriages, and the creators have used the island of Manhattan as a metaphor for modern relationships. Just as Manhattan is a fast-paced, high-tension, anguish-filled, meeting of strangers, so is marriage. Company is terse and cynical, but it is actually pro-marriage. The moral, according to the creators, is that "to be emotionally committed to someone is difficult, but to be alone is impossible." This musical is an episodic collage - there is no plot, and time is fractured. It focuses on the relationships of a 35-year-old bachelor named Robert. His friends and their marriages are seen through his eyes. The piece is a montage of actual experiences coupled with figments of Robert's imagination. Sondheim's music explores Robert's complexity, contrasting lies and superficiality with the genuine emotions that lie beneath the surface. His emotional development is traced in music rather than text. Throughout the piece, Sondheim has used the Brechtian device of songs that stop and comment on the action. In several places, he has also used "pastiche" numbers, songs which evoke musical styles from earlier time periods, to support his commentary on the present.
The setting does double duty: it echoes the sterile, sleek, skeletonized structure of Manhattan skyscrapers, where people's goals are fixed on upward mobility. It also represents Robert's emotional turmoil as an obstacle course of stairs and platforms. Robert is unable to commit to anyone or connect on anything more than a superficial level. He doesn't understand relationships or the need for compromise; he wants perfection and absolutes. Robert remains an emotional child. He needs to accept life's imperfections, to embrace its contradictions, and to allow himself to be hurt in order to mature. Written about marriage 35 years ago, this piece resonates strongly today in terms of modern relationships and emotional maturity, since we live in a world that is still as fast paced and disconnected as New York City was in 1970.
Director: Marc Richard
Choreographer: March Richard
Musical Director: Michael Mulrooney
Publication Date
11-8-2005
Production Year
2005/2006
Theatre Location
Sheridan Hall, Sheridan
Cast
Harry: Daniel Brenner
Larry: Andrew Chandler
Kathy: Romina D'Ugo
April: Katie Hicks
Joanne: Chelsea Johnson
David: Phil Pompeo
Marta: Liz Ruddle
Amy: Alex Saslove
Sarah: Rebecca Stewart
Jenny: Lana Sugarman
Susan: Whitney Tibbs
Peter: Nick Watson
Paul: Ari Weinberg
Robert: Chris Zonneville
Keywords
Company, Theatre Sheridan, musical theatre
Disciplines
Theatre and Performance Studies
Faculty
Faculty of Animation, Arts & Design
School
Department of Visual and Performing Arts
Creative Commons License


This work is licensed under a Creative Commons Attribution-Noncommercial-No Derivative Works 4.0 License.
SOURCE Citation
Theatre Sheridan, "Company, November 8-9, 2005" (2005). Theatre Sheridan Productions. 71.
https://source.sheridancollege.ca/faad_visu_uniq_theatre/71
Original Citation
Richard, M. (Director). (2005, November 8-19). Company [Theatre Performance]. Oakville: Theatre Sheridan.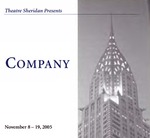 Included in
COinS