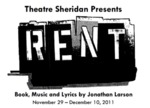 Description
Rent is a musical update of Puccinis La Boheme which, in turn is based on Henri Murger's novel, Scenes de la vie de boheme, a collection of vignettes portraying young bohemians living in the Latin Quarter of Paris in the 1840s. The main theme of Murger's novel is Art Above All. Of the 8 principle characters in this play, half of them are dying of AIDS. What they will leave behind is what they create. This is a musical about the power of art, and friendship set against a backdrop of New York in the late 80's early 90's. A New York riddled with crime and covered in graffiti. A New York where the AIDS epidemic first reported in June 1981 becomes tantamount to a death sentence in 1989.
Jonathan Larson, himself a struggling artist, created a musical that tapped into the anger, frustration, love and determination of a generation of young people that resonates to this day and begs us to ask the question: How do you measure a year in the life of friends?
Director: Lezlie Wade
Choreographer: Marc Kimelman
Musical Director: Robert Foster
Publication Date
11-29-2011
Production Year
2011/2012
Theatre Location
Macdonald-Heaslip Hall, Sheridan
Cast
Roger Davis: Aaron Hastelow
Mark Cohen: Joel Gomez
Tom Collins: Jacob Mac Innis
Benjamin Coffin III: Brett Schaller
Joanne Jefferson: Jaclyn Serre
Angel Dumott Schunard: Andres Sierra
Mimi Marquez: Michelle Bouey
Maureen Johnson: Julia McLellan
Junkie, Gordo, Vendor, Homeless Man, Mr. Grey: David Alves
Thug, Scott, Santa Fe Dancer, Contact Dancer: Mathieu Bellemare
Junkie, Mrs. Cohen, Contact Dancer: Karina Bershteyn
Prostitute, Sue, Vendor, Contact Dancer: Andreane Bouladier
Police Officer, Mr. Jefferson, Paul, Vendor: Trevor Curran
Junkie, Pam, Vendor, Santa Fe and Contact Dancer, Mimi's Mom: Camille Eanga-Selenge
Police Officer, Contact Dancer: Jake Foy
Junkie: Matt Monopoli
Blanket Lady, Roger's Mother: Alycia Novak
Prostitute, Santa Fe Dancer, Mrs. Jefferson, Alexi Darling: Melissa Peters
Police Officer, Homeless Man, Pastor: Chad Trembley
Pimp Dealer, Joel, Santa Fe Dancer, Restaurant Man: Luke Witt
Keywords
Rent, Theatre Sheridan, musical theatre
Disciplines
Theatre and Performance Studies
Faculty
Faculty of Animation, Arts & Design
School
Department of Visual and Performing Arts
Creative Commons License


This work is licensed under a Creative Commons Attribution-Noncommercial-No Derivative Works 4.0 License.
SOURCE Citation
Theatre Sheridan, "Rent, November 29 – December 10, 2011" (2011). Theatre Sheridan Productions. 73.
https://source.sheridancollege.ca/faad_visu_uniq_theatre/73
Original Citation
Wade, L. (Director). (2011, November 29 – December 10). Rent [Theatre Performance]. Oakville: Theatre Sheridan.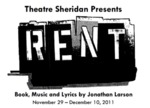 Included in
COinS