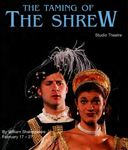 Description
This Shakespearean comedy starts with a nobleman tricking a drunken tinker into forgetting his station in life and the nobleman has a play performed for the tinker's entertainment. The play explores the courtship of Petruchio to Katherina, a stubborn shrew who must be tempered by Petruchio to become a biddable bride. During Petruchio's and Katherina's courtship there is also the competitive courtship of Bianca, Katherina's sister, by various suitors.
The story of the first meeting of two huge souls is timeless. The script remains relevant because it explores personal chemistry between people, issues of losing and winning in the battleground of love, and the meaning of love, duty and respect. The production is set in the Renaissance when Italy was the cultural and trading centre of the civilized world. Eastern influences are introduced through costume design, and musical choices reflect the influence of Italian culture in the development of the English madrigal.
Director: Ron Cameron
Publication Date
2-17-1999
Production Year
1998/1999
Theatre Location
Studio Theatre, Sheridan
Cast
Katherine: Sophie Schottlander
Baptista: David Nevin
Bianca: Sheri Cormier, Sarah Goddard
Petruchio: Sean Andrews
Lucentio: Don Mitchell
Gremio: Yasin Sheikh
Hortensio: Scott Freethy
Vincentio: Andrew Colborne
Pedant: J.P. Baldwin
Tranio: Daniel Murphy
Biondello: Adrian Gorrissen
Grumio: Greg Csefko
Tailor: Jet Matas
Haberdasher: Linda Domenichini
Widow: Colleen O'Brien
1st Servant: Erin Heagle
2nd Servant: Adrianne Marcucci
3rd Servant: Linda Domenichini
Nathaniel: Andrew Colborne
Curtis: Jet Matas
Nuns: Erin Heagle, Adrianne Marcucci, Linda Domenichini, Colleen O'Brien, Sheri Cormier, Sarah Goddard
Priest: Jet Matas
Keywords
Taming of the Shrew, Theatre Sheridan, musical theatre
Disciplines
Theatre and Performance Studies
Faculty
Faculty of Animation, Arts & Design
School
Department of Visual and Performing Arts
Creative Commons License


This work is licensed under a Creative Commons Attribution-Noncommercial-No Derivative Works 4.0 License.
SOURCE Citation
Theatre Sheridan, "The Taming of the Shrew, February 17 – 27, 1999" (1999). Theatre Sheridan Productions. 78.
https://source.sheridancollege.ca/faad_visu_uniq_theatre/78
Original Citation
Cameron, R. (Director). (1999, February 17 – 27). The taming of the shrew [Theatre Performance]. Oakville: Theatre Sheridan.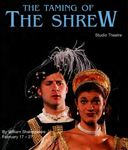 Included in
COinS