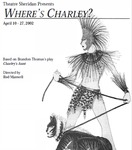 Files
Description
Where's Charley?, a musical spoof of a classic English farce, is a hilarious parody of Victorian social lunacy. The only collaboration between Broadway veterans George Abbott and Frank Loessor, Where's Charley? is a captivating and very funny romp. Set in 1902 in Oxford University, Two Oxford chums, Jack and Charley, have invited two lovely young ladies to their college rooms for lunch. Charley has arranged for Donna Lucia, his Brazilian aunt, to act as chaperone, as required by Victorian morality. When Donna Lucia fails to arrive, the quick thinking lads hatch a plot to impersonate her. Soon, poor Charley is in a constant whirl, portraying both himself and his aunt, all the while fighting off the amorous advances of a middle-aged suitor.
Whoever said that college life was dull? It wasn't dull back at Oxford, and it won't be dull at Sheridan when Where's Charley? hits the boards.
Music and lyrics by Frank Loessor. Book by George Abbott. Based on Brandon Thomas's play Charley's Aunt.
Director: Rod Maxwell
Choreographer: Jim White
Musical Director: David Myers
Publication Date
4-10-2002
Production Year
2001/2002
Theatre Location
Sheridan Hall, Sheridan
Cast
Charley Wykeham: Adam Bolton
Jack Chesney: Tim Clarke
Amy Spettigue: Lisa Messina
Kitty Verdun: Jackee Guillou
Donna Lucia D'Alvadorez: Dana Parsons
Sir Francis Chesney: Patrick Cook
Mr. Spettigue: Jon Snyder
Brassett: James Bradley
Reggie: Craig Fair
Patricia: Katie Doyle
Featured Singer: Jory Rossiter
Girls: Veronica Bachiu, Kate Campbell, Lora Cotter, Katie Doyle, Sophie Hunter, Amanda Jollimore, Julia Juhas, Lisa Lennox, Heather McGuigan, Holly Merritt
Boys: James Bradley, Craig Fair, Matthew Irvine, Stewart McKensy, Michael Power, Jory Rossiter, Cliff Sardinha
Keywords
Where's Charley?, Theatre Sheridan, musical theatre
Disciplines
Theatre and Performance Studies
Faculty
Faculty of Animation, Arts & Design
School
Department of Visual and Performing Arts
Creative Commons License


This work is licensed under a Creative Commons Attribution-Noncommercial-No Derivative Works 4.0 License.
SOURCE Citation
Theatre Sheridan, "Where's Charley?, April 10 – 27, 2002" (2002). Theatre Sheridan Productions. 79.
https://source.sheridancollege.ca/faad_visu_uniq_theatre/79
Original Citation
Maxwell, R. (Director). (2002, April 10 – 27). Where's Charley? [Theatre Performance]. Oakville: Theatre Sheridan.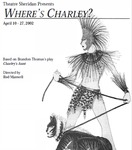 Included in
COinS