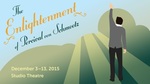 Description
Fed up with a world filled with plagues, pestilence, and poor personal hygiene, a ridiculously optimistic young man sets out on a quest to end the Dark Ages. As he attempts to bring the light of hope to the world, Percival von Schmootz meets with hilariously disastrous results at every turn. It is only when things look the blackest that Percival is able to discover what true enlightenment means. A cross between Monty Python and Candide, this outrageous satirical comedy examines the ways we search for hope in our impossibly dark circumstances.
This musical was commissioned by The Canadian Musical Theatre Project and workshopped at Sheridan in 2014.
Director: Lezlie Wade
Musical Director: Wayne Gwillim
Publication Date
12-3-2015
Production Year
2015/2016
Theatre Location
Studio Theatre, Sheridan
Cast
Percival: Jordan Kenny
Mother & Others: Gillian Reed
Flavian & Others: Nicola Hadjis
Brontis & Others: Stephane Gaudet
Widow & Others: Amanda Trapp
Mother Superior & Others: Jeff Follis
Hildegard & Others: Arinea Hermans
Copernileo & Others: Jordan Shore
Soldier & Others: Andrew MacNaughton
Keywords
The Canadian Musical Theatre Project, The Enlightenment of Percival Von Schmootz, Theatre Sheridan
Disciplines
Theatre and Performance Studies
Faculty
Faculty of Animation, Arts & Design
School
Department of Visual and Performing Arts
Associated Content
Creative Commons License


This work is licensed under a Creative Commons Attribution-Noncommercial-No Derivative Works 4.0 License.
SOURCE Citation
Theatre Sheridan, "The Enlightenment of Percival Von Schmootz, December 3 - 13, 2015" (2015). Theatre Sheridan Productions. 8.
https://source.sheridancollege.ca/faad_visu_uniq_theatre/8
Original Citation
Wade, L. (Director). (2015, December 3 – 13). The enlightenment of Percival Von Schmootz. [Theatre Performance]. Oakville: Theatre Sheridan.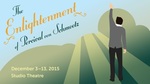 Included in
COinS