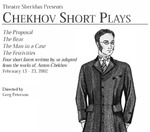 Files
Description
The Proposal, The Bear, The Man in a Case, The Festivities; Four short farces written by, or adapted from the works of, Anton Chekhov.
The characters in Chekhov's plays are haunted by demons from their pasts that determine their behavioural patterns in life. It was Chekhov's firm belief that if people could shed themselves of these demons, they could achieve true happiness and find fulfilment in life.
The Russian classic authors have been characterized as a dour and serious bunch, but these short farces from Anton Chekhov prove the old boys knew how to have a laugh as well. Chekhov mines the universal lunacy of courtship and marriage in his famous comedies, The Marriage Proposal, The Brute and The Man in the Case. This collection of short 'period pieces' gives you a chance to see that the talented Sheridan students can also shine in a non-musical performance.
Director: Greg Peterson
Publication Date
2-13-2002
Production Year
2001/2002
Theatre Location
Studio Theatre, Sheridan
Cast
Patrick Cook
Jonathan Decker
Jackée Guillou
Jean-François Poulin
Carly Robinson
Jon Snyder
Sheena Turcotte
Leah Wahl

The Proposal
Stephan Chubukov, a landowner: Jonathan Decker
Natalia Stepanovna, his daughter: Jackée Guillou
Ivan Vassilievich Lomov, their neighbour: Jean-François Poulin

The Bear
Yelena lvanovna Popova, a widow: Leah Wahl
Luka, an elderly servant: Patrick Cook
Grigory Stepanovich Smiroff, a landowner: Jon Snyder
Dasha, the cook: Jackée Guillou
Pelegea, the maid: Carly Robinson
The housekeeper: Sheena Turcotte
The gardener: Jean-François Poulin
The coachman: Jonathan Decker

The Man in a Case
Byelinkov, a teacher of Greek and Latin: Patrick Cook
Varenka Kovalenka, his fiancée: Carly Robinson

The Festivities
Andrey Andreyevich Shipuchin, manager of the bank: Jonathan Decker
Tatyana AJexeyevna, his wife: Leah Wahl
Kuzma Nikolayevich Heerin, the office bookkeeper: Jean-François Poulin
Nastasya Fyodorovna Merchutkina, a lady in a ratty overcoat: Sheena Turcotte
A bank teller: Patrick Cook
First member of the delegation: Jon Snyder
Second member of the delegation: Carly Robinson
Third member of the delegation: Jackée Guillou
Keywords
Chekhov Short Plays, The Proposal, The Bear, The Man in a Case, The Festivities, Theatre Sheridan, musical theatre
Disciplines
Theatre and Performance Studies
Faculty
Faculty of Animation, Arts & Design
School
Department of Visual and Performing Arts
Creative Commons License


This work is licensed under a Creative Commons Attribution-Noncommercial-No Derivative Works 4.0 License.
SOURCE Citation
Theatre Sheridan, "Chekhov Short Plays, February 13 – 23, 2002" (2002). Theatre Sheridan Productions. 81.
https://source.sheridancollege.ca/faad_visu_uniq_theatre/81
Original Citation
Peterson, G. (Director). (2002, February 13 – 23). Chekhov short plays [Theatre Performance]. Oakville: Theatre Sheridan.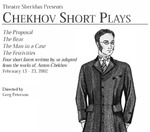 Included in
COinS