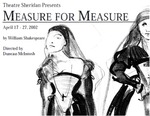 Files
Description
In this comedy about justice, the Duke of Vienna attempts to strengthen the laws that govern sexual conduct in his city. A straight moralistic tale, it would seem, until the man charged with cleaning up the city falls for the beautiful Isabella, who is pleading for the life of her brother, the first man to be sentenced to death for 'illicit sex' under the new laws. Shakespeare uses love, lust and sexual behaviour among Viennese society to demonstrate that no one is immune to the rules they must enforce. The play's title, Measure for Measure is taken from the Sermon on the Mount, and indicates that just punishment must be tempered by mercy. In other words, "Judge not lest ye be judged."
Director: Duncan McIntosh
Publication Date
4-17-2002
Production Year
2001/2002
Theatre Location
Studio Theatre, Sheridan
Cast
Vincentio, The Duke: Matthew Campbell
Angelo, The Deputy: Sean Hauk
Escalus, A Lord: Ben Birchard
Claudio, A Young Gentleman: Brock Burford
Lucio, A Fantastic: Lucas Mercier
1st Gentleman: Julie Burns
2nd Gentleman: Jennifer Braund
Provost: Jordan L'Abbe
Sister Peter: Victoria Nestorowicz
Elbow, A Simple Constable: Virginia Cowan
Froth, A Foolish Gentleman: Phedra L'Abbe
Pompey, A Clown Servant: Michael Peddle
Abhorson, An Executioner: Jamie Riley Caton
Bamadine, A Prisoner: Jean-François Poulin
Isabella, Sister to Claudio: Erin Lasky
Mariana, Betrothed to Claudio: Leah Wahl
Juliet, Beloved of Claudio: Nicole Poynter
Francisca, A Nun: Sheena Turcotte
Mistress Overdone, A Bawd: Jennifer Prusky
Justice: Julie Burns
Head Servant: Lisa Sonshine
Servants: Jennifer Braund, Michele M. Kaye
Guards: Jamie Riley Caton, Jean-François Poulin
Keywords
Measure for Measure, William Shakespeare, Theatre Sheridan, musical theatre
Disciplines
Theatre and Performance Studies
Faculty
Faculty of Animation, Arts & Design
School
Department of Visual and Performing Arts
Creative Commons License


This work is licensed under a Creative Commons Attribution-Noncommercial-No Derivative Works 4.0 License.
SOURCE Citation
Theatre Sheridan, "Measure for Measure, April 17 – 27, 2002" (2002). Theatre Sheridan Productions. 82.
https://source.sheridancollege.ca/faad_visu_uniq_theatre/82
Original Citation
McIntosh, D. (Director). (2002, April 17 – 27). Measure for measure [Theatre Performance]. Oakville: Theatre Sheridan.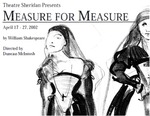 Included in
COinS