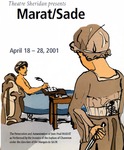 Files
Description
The year is 1808, 19 years after the height of the French Revolution. The director of the clinic of Charenton has invited the local bourgeoisie to witness the latest theatrical offering of one of the clinic's most notorious inmates, the Marquis de Sade. De Sade has directed the other inmates of the asylum in a unique retelling of the events leading up to the stabbing death of Jean-Paul Marat, one of the French Revolution's most virulent journalists and a leader of the extremist movement. His life ended when Charlotte Corday, a young follower in Normandy, stabbed Marat to death.
By Peter Weiss. English version by Geoffrey Skelton, verse adaptations by Adrian Mitchell, music composed by Richard Peaslee.
Director: Greg Peterson
Choreographer: Noah Henne
Musical Director: Marion Abbott
Publication Date
4-18-2001
Production Year
2000/2001
Theatre Location
Studio Theatre, Sheridan
Cast
Marquis de Sade: Noah Henne
Coulmier: Kraig-Paul Proulx
Coulmier's Wife: Leah Wahl
Coulmier's Daughter: Victoria Nestorowicz
Jean-Paul Marat: Michael Lomenda
Simone Evrard: Amanda Rose Moscar
Charlotte Corday: Cathy Current, Martha Farrell
Duperret: Adam Bolton
Jaques Roux: Jamie Press
Herald: Jamie McKnight
Cucurucu: Gina Marshall
Polpoch: Erin Lasky
Kokol: Claude-Andree Caron
Rossignol: Sarah Mccully
Mad Animal: Nicole Poynter
Schoolmaster: Michael Peddle
Mother: Dana Parsons
Father: Jonathan Decker
Military Representative: Donnie Macphee
Scientist: Matthew Campbell
Newly Rich: Mimi Woods
Voltaire: Katie Doyle
Lavoisier: Jennifer Prusky
Nuns/Inmates: Matthew Campbell, Donnie Macphee
Patients: Matthew Campbell, Jonathan Decker, Katie Doyle, Donnie Macphee, Dana Parsons, Michael Peddle, Nicole Poynter, Jennifer Prusky, Mimi Woods
Keywords
Marat/Sade, Marquis de Sade, Theatre Sheridan, musical theatre
Disciplines
Theatre and Performance Studies
Faculty
Faculty of Animation, Arts & Design
School
Department of Visual and Performing Arts
Creative Commons License


This work is licensed under a Creative Commons Attribution-Noncommercial-No Derivative Works 4.0 License.
SOURCE Citation
Theatre Sheridan, "Marat/Sade, April 18 – 28, 2001" (2001). Theatre Sheridan Productions. 86.
https://source.sheridancollege.ca/faad_visu_uniq_theatre/86
Original Citation
Peterson, G. (Director). (2001, April 18 – 28). Marat/Sade [Theatre Performance]. Oakville: Theatre Sheridan.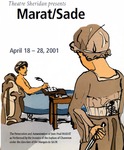 Included in
COinS