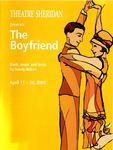 Files
Description
This light-hearted love romp through 'The Roaring Twenties' tells the story of a poor little rich girl searching for a boyfriend to love her, not her fortune. Charming lovers, flamboyant flappers, lively dances and a happy ever-after ending all add to the joy of this piece of '20s nostalgia. This was a time of conservatism and great social change. It was the age of prohibition, prosperity and Jazz, Jazz, Jazz. This era featured musicians the likes of Bessie Smith, Duke Ellington and the great George Gershwin. It was a time of new inventions - the automobile, the radio and the airplane. Young artists such as Al Jolson, Charlie Chaplin, F. Scott Fitzgerald, Ernest Hemingway and Robert Frost paved the way for a new expression. The cloche hat, the tube dress, European nightclubs and the Speakeasy were all the rage. It was 'The Roaring Twenties.'
"The Boyfriend's back and there's gonna be laughter!" Join Theatre Sheridan once again, 22 years after The Boyfriend was first presented in Sheridan Hall, for a madcap spoof of the musicals of the 1920's! Described as a "happy, amiable and funny show" the plot centers on Polly and her mysterious boyfriend, mixed messages, hidden identities, and all time hit tunes! Whether the songs are Jerome Kern's Fancy Forgetting, Noel Coward's A Room in Bloomsbury or Vincent Youmans' I Could Be Happy With You, this favourite musical blissfully evokes an earlier, simpler time, where everyone had a happy ending!
Book, music and lyrics by Sandy Wilson
Director and Choreographer: Jim White
Musical Director: Michael Barber
Publication Date
4-11-2001
Production Year
2000/2001
Theatre Location
Sheridan Hall, Sheridan
Cast
Polly: Lindsay Thomas
Tony: Mark Huculak
Maisie: Heather E. Wilson
Bobby: John Edwards
Dulcie: Stephanie O'Brien
Hortense: Sarah Cornell
Lady Brockhurst: Jennifer Warren
Lord Brockhurst: Jeremy Elder
Madame Dubonnet: Michelle Doyle, Katherine Fadum
Percy: Ben Birchard
Tango Dancers: Jackee Guillou, Ryan Wilson
Zanies: Sean Hauk, Lisa Messina, Jonathan Snyder
Fay: Amber Handley
Nancy: Carly Robinson
Marcel: James Bradley
Alphonse: Tim Clarke
Pierre: Lucas Mercier
Young Ladies: Rachel Fisher, Eran Goodyear, Jackee Guillou, Amber Handley, Lisa Messina, Stephanie O'Brien, Carly Robinson, Heather E. Wilson
Young Men: James Bradley, Tim Clarke, John Edwards, Sean Hauk, Lucas Mercier, Jonathan Snyder, Ryan Wilson
Waiter: Tim Clarke
Gendarme: Lucas Mercier
Keywords
The Boyfriend, Theatre Sheridan, musical theatre
Disciplines
Theatre and Performance Studies
Faculty
Faculty of Animation, Arts & Design
School
Department of Visual and Performing Arts
Creative Commons License


This work is licensed under a Creative Commons Attribution-Noncommercial-No Derivative Works 4.0 License.
SOURCE Citation
Theatre Sheridan, "The Boyfriend, April 11 – 28, 2001" (2001). Theatre Sheridan Productions. 87.
https://source.sheridancollege.ca/faad_visu_uniq_theatre/87
Original Citation
White, W. (Director). (2001, April 11 – 28). The boyfriend [Theatre Performance]. Oakville: Theatre Sheridan.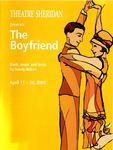 Included in
COinS