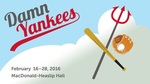 Description
Joe Boyd, a middle-aged married man loves his perpetually losing Washington Senators as much as he hates the perpetually winning New York Yankees. When the Devil appears in the form of the smooth Mr. Applegate, Joe jumps at the chance to trade his soul to become the greatest baseball player of all time and carry his Senators to the pennant. As the Senators go on an historic winning streak and near first place, Joe finally realizes how much he gave up when he walked away from his wife's love and their workaday life. Will he go back, or will he succumb to the temptations of fame, glory, and the charms of Applegate's assistant, the luscious Lola?
Fast-paced and devilishly clever, DAMN YANKEES is a home-run musical featuring America's favourite pastime and an irreverent sense of humour.
Director: Ray Hogg
Musical Director: Ryan deSouza
Publication Date
2-16-2016
Production Year
2015/2016
Theatre Location
Macdonald-Heaslip Hall, Sheridan
Cast
Bryan: Dan Byrne
Bouley: Tyler Check
Mickey: David Comeau
Joe Boyd: Joel Cumber
Ensemble: Marisa Dashney
Linville: Jeffrey Follis
Smokey: Stephane Gaudet
Ensemble: Janas Jacqueline
James: Seth Johnson
Bruce: Jared Klein
Rocky: Cameron Kneteman
Ensemble: Heather Kosik
Sister Miller: Kelsey Lacombe
Ensemble: Sophie Lea
Meg Boyd: Mychele Lebrun
Simon: David Lindo-Reid
Mark: Benjamin Litner
Van Buren: Andrew MacNaughton
Lowe: Jonah McIntosh
Doris, Miss Watson: Grace McRae
Henry: Reid McTavish
Sohovik, Eddie: Gray Monczka
Giuseppe: Mario Pacheco
Lola: Melanie Paiement
Teddy: Matthew Payne
Buster: Matthew Pinkerton
Ed, Mr. Lynch: Ben Plunkett
Joe Hardy: Micah Richardson
Ensemble: Ileah Rosella
Donnie: Jordan Shore
Applegate: Greg Solomon
Welch: Daniel Spragge
Vernon: Jacques St. Pierre
Doris Miller: Celine Tsai
Ensemble: Kelsey Verzotti
Brian: Mitchell Wood
Gloria Thorpe: Catherine Wylee
Keywords
Damn Yankees, Theatre Sheridan
Disciplines
Theatre and Performance Studies
Faculty
Faculty of Animation, Arts & Design
School
Department of Visual and Performing Arts
Creative Commons License


This work is licensed under a Creative Commons Attribution-Noncommercial-No Derivative Works 4.0 License.
SOURCE Citation
Theatre Sheridan, "Damn Yankees, February 16 - 28, 2016" (2016). Theatre Sheridan Productions. 9.
https://source.sheridancollege.ca/faad_visu_uniq_theatre/9
Original Citation
Hogg, R. (Director). (2016, February 16 – 28). Damn Yankees. [Theatre Performance]. Oakville: Theatre Sheridan.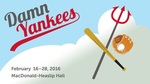 Included in
COinS