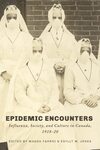 Title
Beyond Biology: Understanding the Social Impact of Infectious Disease within Two Aboriginal Communities in Manitoba
Document Type
Book Chapter
Description
Health crises such as the SARS epidemic and H1N1 have rekindled interest in the 1918 influenza pandemic, which swept the globe in the wake of the First World War and killed approximately 50 million people. Now more than ever, medical, public health, and government officials are looking to the past to help prepare for future emergencies.
Epidemic Encounters zeroes in on Canada, where one-third of the population took ill and fifty-five thousand people died, to consider the various ways in which this country was affected by the pandemic. How did military and medical authorities, health care workers, and ordinary citizens respond? What role did social inequalities play in determining who survived? To answer these questions as they pertained to both local and national contexts, the contributors explore a number of key themes and topics, including the experiences of nurses and Aboriginal peoples, public letter writing in Montreal, the place of the epidemic within industrial modernity, and the relationship between mourning and interwar spiritualism.
The Canadian experience brings to light the complex ways that biology, science, society, and culture intersect in a globalizing world and offers new insight into medical history's usefulness in the struggle against epidemic disease.
This book will be of value not only to historians and medical anthropologists but also to clinicians and government officials charged with planning responses to pandemic diseases.
Publication Date
5-24-2012
Keywords
Infectious disease, Aboriginal communities, epidemic, Manitoba
Faculty
Faculty of Health and Community Studies (FAHCS)
Creative Commons License


This work is licensed under a Creative Commons Attribution-Noncommercial-No Derivative Works 4.0 License.
SOURCE Citation
Slonim, Karen, "Beyond Biology: Understanding the Social Impact of Infectious Disease within Two Aboriginal Communities in Manitoba" (2012). Books & Chapters. 18.
https://source.sheridancollege.ca/fahcs_books/18
Original Citation
Slonim, K. (2012). Beyond biology: Understanding the social impact of infectious disease within two Aboriginal communities in Manitoba. In M. Fahrni & E. W. Jones (Eds.), Epidemic encounters: Influenza, society, and culture in Canada, 1918-20 (pp. 113-141). UBC Press.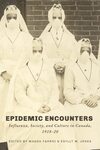 COinS