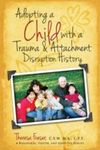 Title
Adopting a Child with a Trauma and Attachment Disruption History: A Practical Guide
Role
Theresa Fraser is the author of the book Adopting a Child with a Trauma and Attachment Disruption History: A Practical Guide
Description
This booklet is a fact-filled resource for adoptive parents who have a child with trauma and attachment disruption experiences. Fraser provides tips and strategies that can be considered before placement as well as days, weeks, and months after your child joins your family. It addresses the day-to-day issues that new parents often get stuck on and provides info on the Four S's parenting plan that she shares with families (safety, structure, supervision and support).
Readers will:
- Understand how kids with trauma and attachment disruptions first require emotional safety
- Learn how providing structure will help your child connect with your family
- Discover the importance of providing engaging supervision
- Affirm that adoptive parents need support and learn how to help
Faculty
Faculty of Applied Health & Community Studies
School
School of Community Studies
Copyright
© Loving Healing Press
Creative Commons License


This work is licensed under a Creative Commons Attribution 4.0 License.
SOURCE Citation
Fraser, Theresa, "Adopting a Child with a Trauma and Attachment Disruption History: A Practical Guide" (2011). Faculty Books. 1.
https://source.sheridancollege.ca/fahcs_comm_book/1
Original Citation
Fraser, T. A. (2011). Adopting a child with a trauma and attachment disruption history: A practical guide. Ann Arbor, MI: Loving Healing Press.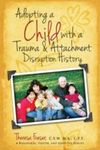 COinS