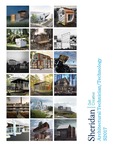 Role
Faculty Contributors
Adrian Bica
David Peterson
Kenneth Snell
Shannon Pirie
Tawfik Kettanah
Vito Picicci

Student Contributors
Diana Ghousy, Nicollo Abe, Refaat Hossaini, Qi Wang, Erika Wood, Sonaly Francis, Guka Yoga, Nataliya Yatsenko, Kayla Robinson, Ajitha Manoharan, Kaifei Feng, Jerry Guo, Jad Asma, Simran Kaur Ahluwalia, Lukas Macha, Harrison Dell, Tabinda Begum, Luc Suh, Parmraj Khosa, Cathryn Tran, Nicholas Skubic, Deanna Shields, Gabriela Betancourt, Hadee Khamush, Ederlyn Sanchez, Jessica Owsianka, Oksana Yarmolovych, Lipton Su, Hayley Perrin, Daniel Ferraro
Description
Welcome to Sheridan's School of Architectural Technician/Technology printed portfolio volume 2. A combination of student work as well as faculty research has once again been been amalgamated into a print and digital portfolio showing the academic excellence of our program.
Student work in the book is largely from the course CADD 39788 Architectural Computer Visualisation with a few projects from other courses making guest appearances.
Our faculty research section near the back of the book offers insights into the professional interests and engagements of Sheridan professors.
Keywords
Architectural Technology, Architectural Technician, Architectural Computer Visualization, student work, faculty work, design, sustainability in design, floor plans, tiny house, micro house, Sheridan, Life of an Architect Playhouse Competition
Faculty
Faculty of Applied Science and Technology
Creative Commons License


This work is licensed under a Creative Commons Attribution-Noncommercial-No Derivative Works 4.0 License.
SOURCE Citation
School of Architectural Technology; Bica, Adrian; Peterson, David; Snell, Ken; Pirie, Shannon; Kettanah, Tawfik; Picicci, Vito; Ghousy, Diana; Abe, Nicollo; Hossaini, Refaat; Wang, Qi; Wood, Erika; Francis, Sonaly; Yoga, Guka; Yatsenko, Nataliya; Robinson, Kayla; Manoharan, Ajitha; Feng, Kaifei; Guo, Jerry; Asma, Jad; Ahluwalia, Simran Kaur; Macha, Lukas; Dell, Harrison; Begum, Tabinda; Suh, Luc; Khosa, Parmraj; Tran, Cathryn; Skubic, Nicholas; Shields, Deanna; Betancourt, Gabriela; Khamush, Hadee; Sanchez, Ederlyn; Owsianka, Jessica; Yarmolovych, Oksana; Su, Lipton; Perrin, Hayley; and Ferraro, Daniel, "Sheridan School of Architectural Technology Volume 2 [S2017]" (2017). Books and Websites. 3.
https://source.sheridancollege.ca/fast_books/3
Original Citation
School of Architectural Technology. (2017). Architectural Technician/Technology volume 2 S2017. A. Bica (Ed.). Mississauga, Ontario: Sheridan.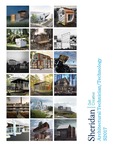 Included in
COinS