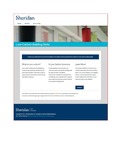 Description
Low-carbon building involves designing, constructing, operating, maintaining, and removing buildings in ways that conserve natural resources and reduce Greenhouse Gas (GHG) emissions. To move towards a low-carbon economy, we need tradespeople who are educated in the design, construction maintenance and operation of buildings, who understand the industrial and constructions sectors, and are trained in low-carbon building skills.
Sheridan College's participation in the Low Carbon Building Skills (LCBS) project involved developing and delivering low-carbon building skills curriculum across relevant disciplines and involving the full building cycle, from design to operations and optimization. The learning modules address what can be done to reduce and/or eliminate the use of carbon in new and existing buildings from a variety of disciplines.
Designed for professors of Ontario Post Secondary institutions, access to course material is granted with verification of a post-secondary email address. Through instruction of the LCBS modules, students will gain experience in design, implementation, operation, optimization and troubleshooting of building systems which will lead to building with a net decrease in energy consumption and GHG production resulting in reduced carbon emissions within Ontario.
Access note:
https://lowcarbonbuilding.sheridancollege.ca/copyright-and-terms-of-use/
For access inquiries, please contact fast_events@sheridancollege.ca
Browser requirements: Chrome or Firefox. Internet Explorer is not supported.
Keywords
low carbon, low carbon building, design, construction, building skills
Disciplines
Electrical and Computer Engineering | Environmental Chemistry | Environmental Design | Environmental Indicators and Impact Assessment | Environmental Sciences | Mechanical Engineering | Power and Energy
Faculty
Faculty of Applied Science and Technology (FAST)
Copyright
© Faculty of Applied Science and Technology
Creative Commons License


This work is licensed under a Creative Commons Attribution-Noncommercial-No Derivative Works 4.0 License.
SOURCE Citation
Faculty of Applied Science and Technology Sheridan College, "Low-Carbon Building Skills Website" (2018). Books and Websites. 4.
https://source.sheridancollege.ca/fast_books/4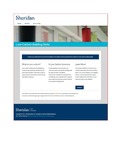 COinS