Title
Preview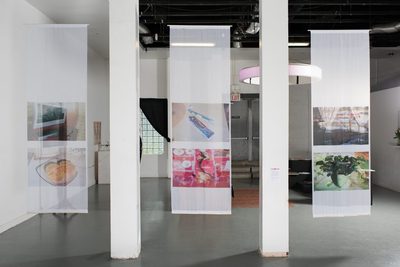 Keywords
student art, Sheridan, Bachelor of Photography
Description
Seth Stevenson graduated in 2016 with a Bachelor of Photography. Grandmother was acquisitioned for the Sheridan permanent art collection, a curated selection of artwork by Sheridan alumni, students, faculty and emeritus faculty. It is intended to foster and showcase Sheridan's creative legacy while generating inspiration and dialogue.
Awards
Student Council Award, Photography 2016
Dean's Art Acquisition Award 2016
Artist Statement
Separated by over three thousand kilometres, this project explores the distance between me and my grandmother. In an attempt to reconnect with her, I have asked her to take photos in her home and of her daily life. Trying to close the gap between us, I project the images she provides onto objects of mine and photograph them. The space between us in geography and age is depicted in the space between the things with which we adorn our environment. Displaying the images on thin fabric, I hope to create an opportunity for the viewer to see their own family through it.
Faculty
Faculty of Animation, Arts & Design (FAAD)
Material
Photo-screened fabric
Copyright
© Seth Stevenson
Creative Commons License

This work is licensed under a Creative Commons Attribution-Noncommercial-No Derivative Works 4.0 License.
Keywords
student art, Sheridan, Bachelor of Photography
COinS
View Images