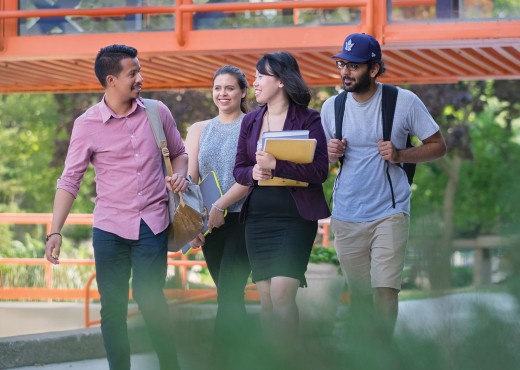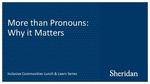 Files
Document Type
Webinar - Restricted
Download Instructions
This webinar is restricted to Sheridan faculty and staff. To view this webinar users must click the download button and log in. If you do not have an account on SOURCE, you will need to create one using your Sheridan email address by clicking the "sign up" tab at the bottom of the login page.

If you have any questions about the sign up and login process, please contact source@sheridancollege.ca
Description
For many transgender, non-binary, and gender-diverse people, pronouns are not simply words, they are a sign of respect, and an affirmation that people see them as they are.
Coinciding with Pride Month, Sheridan Social Service Worker graduate, Corrin Marier, delivered a discussion with students and employee members of the Sheridan Building Positive Space Committee. The conversation was moderated by Dr. Cherie Werhun, Strategic Lead, S-Factor Framework.
From this webinar, you will take away:
An understanding of the terms "gender identity", "gender expression", "cisgender", "transgender" and "non-binary"
How to use pronouns and neopronouns in conversation
Knowledge about the impact of "misgendering"
The connection between the use of pronouns and mental health
Steps you can take to become an ally for trans people
Publication Date
7-6-2021
Keywords
gender identity, gender expression, cisgender, transgender, non-binary, trans people, misgendering
Faculty
Centre for Equity and Inclusion
Terms of Use
Terms of Use for Works posted in SOURCE.
Copyright
© Centre for Equity and Inclusion
Creative Commons License


This work is licensed under a Creative Commons Attribution-Noncommercial-No Derivative Works 4.0 License.
SOURCE Citation
Marier (he/they), Corrin; Moati (she/her), Dina; Werhun (she/her), Cherie; Holmes (he/they), Andrew; and Centre for Equity and Inclusion, "More than Pronouns: Why it Matters" (2021). Webinars. 1.
https://source.sheridancollege.ca/cei_webinars/1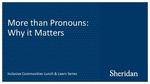 COinS