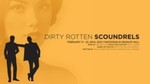 Description
Be transported to the French Riviera for a night of music, dancing, and high society high jinks as we follow con artists, Lawrence Jameson, suave and sophisticated and his rival Freddy Benson, the small-time crook. After meeting on a train, they unsuccessfully attempt to work together only to find that this small French town isn't big enough for the both of them. So they make a bet: the first to swindle a young heiress, triumphs and the other must leave town. What follows are a series of schemes, masquerades and double-crosses in which nothing may ever be exactly what it seems.
It is based on the book by Jeffrey Lane. Music and lyrics are by David Yazbek. It is also based on the film "Dirty Rotten Scoundrels". This comedy is written by Dale Launer, Stanley Shapiro & Paul Henning.
Director & Choreographer: Robin Calvert
Musical Director: Robert Foster
Publication Date
2-11-2014
Production Year
2013/2014
Theatre Location
Macdonald-Heaslip Hall, Sheridan
Cast
Lawrence Jameson: John MacCormac
Freddy Benson: Luc Trottier
Christine Colgate: Kimberly-Ann Truong
Andre Thibault: Greg Borris
Muriel: Amy Welcher
Jolene: Laura Larson
Male Ensemble: Colton Curtis, Eric Dahlinger, Cameron Francis, JJ Gerber, Daniel Bowen
Female Ensemble: Quinn Dooley, Lauran Olmstead, Teale Poirier, Vanessa Sears
Keywords
Dirty Rotten Scoundrels, Theatre Sheridan, musical theatre
Disciplines
Theatre and Performance Studies
Faculty
Faculty of Animation, Arts & Design
School
Department of Visual and Performing Arts
Creative Commons License


This work is licensed under a Creative Commons Attribution-Noncommercial-No Derivative Works 4.0 License.
SOURCE Citation
Theatre Sheridan, "Dirty Rotten Scoundrels, February 11-23, 2014" (2014). Theatre Sheridan Productions. 13.
https://source.sheridancollege.ca/faad_visu_uniq_theatre/13
Original Citation
Calvert, R. (Director). (2014, February 11 – 23). Dirty rotten scoundrels. [Theatre Performance]. Oakville: Theatre Sheridan.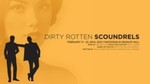 Included in
COinS