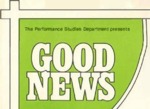 Description
A football musical set in the Roaring Twenties at Tait College and explores young love, college popularity, football, and making the grade. Tom Marlowe, a football star with negligible marks at Tait College must pass the grade in order to play in the upcoming game and falls in love with his tutor, Connie Lane.
By Laurence Schwab & B. G. DeSylva, done in a cabaret style.
Director: Rod Maxwell
Choreographer: Maureen Shone
Musical Director: Don Graves
Publication Date
4-19-1979
Production Year
1978/1979
Theatre Location
Sheridan Hall Theatre
Cast
Bobby Randall Sr.: Chris Gibson
Sally: Nancy Webster
Slats: John Douglas Lee
Millie: Sheila Beausoleil
Flo: Cyd Craig
Babe O'Day: lole Fabbro
"Beef" Saunders: Michael Mattina
"Pooch" Kearney: Gregory Lipton
Cora Johnson: Chris Spear
Tom Marlowe: Tim Gammon
Patricia Bingham: Deborah Ann Worobec
Sylvester: Barry Smitheram
Constance Lane: Cathy Kinsman
Bobby Randall: Darryl Thistel
Charlotte Kenyon: Sue Walton

Chorus Sue Campkin, Chuckie Clark, Anna Cuschieri, Christine Falaleeff, Debbie Haddad, Mayilyn Hood, Ann Jackson, Jan Kruchak, Cheryse LaRocque, Greg Lawson, Katherine MacKenzie, Kim McGrath, Ginny Metcalfe, Shirley Mills, Andrea Nicol, Shelley Park, Maxine Passer, Wendy Pawson, Ross Perego, Janice Romagnoli, Marion
Schwan, Lizza Sendzimir, Scott Shepherd, Paul Slingsby, Debbie Smith, Katheryne Stewart, Olwen Urquhart, Ted Waleski, Marty Wallace, Virginia Wardell, Karen Willis, Kim Worobec, Mary-Lu Zahalan
Keywords
Good News, Theatre Sheridan, musical theatre
Disciplines
Theatre and Performance Studies
Faculty
Faculty of Animation, Arts & Design
School
Department of Visual and Performing Arts
SOURCE Citation
Theatre Sheridan, "Good News, April 19 – 28, 1979" (1979). Theatre Sheridan Productions. 154.
https://source.sheridancollege.ca/faad_visu_uniq_theatre/154
Original Citation
Maxwell, R. (Director). (1979, April 19 – 28). Good news [Theatre Performance]. Oakville: Theatre Sheridan.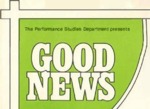 Included in
COinS