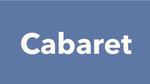 Description
In the months that precede the outbreak of World War II, American writer Clifford Bradshaw lands in Berlin and soon finds himself at the notorious Kit Kat Klub. There he falls madly in love with the English ex-patriot entertainer Sally Bowles. Their affair is tested as her reckless lifestyle overwhelms him and as the world around them marches towards chaos. Throughout, the Kit Kat Klub's Emcee taunts and satirizes with dazzling musical numbers in a score that includes Wilkommen, Money (Makes the World Go Around), Maybe This Time, and the unforgettable title tune.
Director: Dr. Marc Richard
Choreographer: Linda Garneau *
Music Director: Patrick Bowman
Publication Date
2-11-2020
Theatre Location
Macdonald-Heaslip Hall, Sheridan
Cast
Josh Alcantara: Helga
Devin Alexander: Bobby
Fae Alexander: Natalie Landauer
Daniel Allain: Werner, Officer
Alex Batycki: Victor
Nick Boegel:Trixie: Arthur Norris
Connor Briggs: Max
Celeste Brillon: Rosie
Aniqa Charania: Ellen
Sydney Cochrane: Erika
Katie Crompton: Helen Pratt
Jamie Cudicio: Anni
Jesse Drwiega: Ernst Ludwig
Allison Ference: Sally Bowles
Taylor Garwood: Fraulein Schneider
Abby Grass: Hippy Bernstein
Wychita Henricks: Herman
Madison Hill: Grete Nowak
Ryan Abd'u'llah Hooper: Heinrich Schmidt, Helen
Clarence Jura: Clive Wendall
Ashley Kippax: Hilde
Dominique LeBlanc:Trude, (Violin, Accordion)
Theo Mattias: Erich, Waiter
Makenna Matwijec: Ludwig Bayer
Leah McKenney: Lulu
Emily McKim: Frenchie
Naomi McGuirk: Gunther Pregnitz
Bethany Monaghan: Fraulein Kost
Kaleigh Murphy: Erna Klemke
Ben Page: Emcee (Accordion)
Lauren Phillips: Fritzie
Kaitlyn Post: Olga
Matthew Reid: Clifford Bradshaw
Aaron Ryder: Herr Shultz
Taurian Teelucksingh: Kuno, Bartender
Alten Wilmot: Hans
Abigail Woodhouse: Heins
Kristen Zorzi: Texas
Seth Zosky: Otto, Waiter (Percussion)
Keywords
Cabaret, Theatre Sheridan, musical theatre
Disciplines
Theatre and Performance Studies
Faculty
Faculty of Animation, Arts & Design
Creative Commons License


This work is licensed under a Creative Commons Attribution-Noncommercial-No Derivative Works 4.0 License.
SOURCE Citation
Theatre Sheridan, "Cabaret, February 11 – 23, 2020" (2020). Theatre Sheridan Productions. 177.
https://source.sheridancollege.ca/faad_visu_uniq_theatre/177
Original Citation
Dr. Richard, M. (Director). (2020, February 11 – 23). Cabaret. [Theatre Performance]. Theatre Sheridan.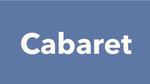 Included in
COinS