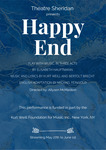 Title
Description
Happy End is a musical about capitalism, spiritual and gang-land armies, and theatre. Kurt Weill and Bertolt Brecht's attempt at a follow-up to the very successful Threepenny Opera follows the romance between a Salvation Army worker and gang leader and features the exquisite Surabaya Johnny, Bilbao Song and Mandalay Song. While seeming familiar to fans of Guys and Dolls, Happy End pre-dates it by 21 years and is fuelled at once by Brecht's desire to dismantle political structures and Weill's music that drives narrative structure and character. Overshadowed by Threepenny Opera, Happy End is a "young" musical, a melodrama, a romp and an examination of corruption and power... all at once.
Publication Date
5-27-2022
Theatre Location
Streaming
Cast
Daniel Yeh: Bill Cracker
Meredith Shedden: The Professor(she/her)
Tatyana Doran: The Reverend
Sam Boucher: The Governor
Grace Rockett: Sam Wurlitzer
Olivia Keady: Baby Face
Zoe O'Connor: The Fly/Ben
Emi Gusdal: Miriam
Anthony Goncharov: The Cop
Lily Librach: Lillian Holiday
Caitlin Collingwood: Sister Jane
Marco Deluca: Hannibal Jackson(he/him)
Carly Martin: Major Stone
Jordan Melnyk: Sister Mary
Keywords
Happy End, Sheridan, musical theatre
Disciplines
Theatre and Performance Studies
Faculty
Faculty of Animation, Arts & Design
Creative Commons License


This work is licensed under a Creative Commons Attribution-Noncommercial-No Derivative Works 4.0 License.
SOURCE Citation
Theatre Sheridan, "Happy End" (2022). Theatre Sheridan Productions. 197.
https://source.sheridancollege.ca/faad_visu_uniq_theatre/197
Original Citation
Hauptmann, E. (2022). Happy End.[Theatre Performance]. Oakville: Theatre Sheridan.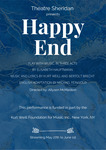 Included in
COinS